Americans finish top two in men's 1500 meter at Pan Am Junior Athletics Championships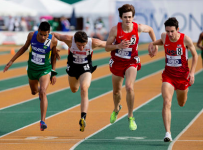 August 02, 2015
U of O Miler Blake Haney wins the Men's 1500m Final at the 2015 Panamerican Junior Athletics Championships at Foote Field, in Edmonton with a time of 3:56.49.
By Brian Swane, Edmonton Sun
One didn't need ask what it's like to run almost four laps in less than 4 minutes at Foote Field on Saturday night.
They only needed to look at the aftermath.
An exhausted Blake Haney sat with bags of ice on his head, before sprawling on the grass and eventually lying down in the medical tent. Drenched in sweat, Brandon Pollard breathed into a paper bag to settle his stomach, then dry-heaved over a garbage can.
And those were the winners.
"It's a tough race," said Haney, who edged out fellow American Pollard for gold with a time of 3:56.49 in the men's 1500 meter final Saturday night.
Continue reading at: edmontonsun.com