Cathedral's Cole Hocker wins historic double, leads Oregon to NCAA indoor track title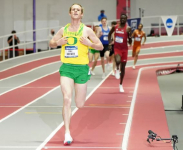 March 13, 2021
Sophomore sets meet record in the Mile: "I definitely feel like I'm in the best shape of my life."
By David Woods, Indianapolis Star
Cole Hocker did everything he could have done except set a world record. If he had gone for it, you never know.
"I definitely feel like I'm in the best shape of my life. Better than three weeks ago when we ran 3:50," he said, referring to his Feb. 12 Mile time, #2 collegian all-time.
The Oregon sophomore from Indianapolis ran himself onto a list of track & field legends Saturday in the NCAA Indoor Championships at Fayetteville, Ark. He set a meet record in the Mile and near-record in the 3000 meters, helping the Ducks to a resounding team title.
Oregon scored 79 points, second only to Arkansas' record 94 from 1994. Indiana tied for 22nd with nine points.
Hocker, 19, became the youngest American ever to win the Mile and youngest of any nation to win such a distance double at indoor NCAAs. He has become a contender to make the Tokyo team at June's Olympic Trials, held on Oregon's track.
He rocketed away over the closing 200 meters in 25.87 to set a Mile record of 3 minutes, 53.71 seconds. Previous record was 3:54.74 by Arizona's Lawi Lalang in 2013.
Hocker, a former state champion from Cathedral High School, turns 20 in June. Kansas' Jim Ryun turned 20 the month after his 1967 victory.
Oregon coaches pondered pulling Hocker out of the 3000, which began 55 minutes after the Mile. Unsure if the Ducks needed the points, he stayed in it.
Hocker was even faster over the last 200 of the 3000, blasting a 25.49 to edge Oregon teammate Cooper Teare. Hocker's time was 7:46.15 to Teare's 7:46.23. Lalang's meet record, also from 2013, is 7:45.94.
Continue reading at: indystar.com