Cristian Soratos: The Unlikely NCAA Mile Leader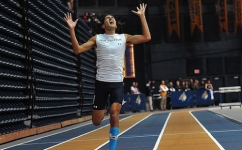 March 10, 2015
The Montana State University senior burst onto the scene with a 3:55.27 Mile.
By Matthew Hoffman, Running Times
Cristian Soratos of Montana State University wasn't surprised when ran a 3:55.27 Mile at the University of Washington on Feb. 14, his first time under 4:00.
"I knew that I was in shape for it," he says. "I felt I was already a sub-4:00 Miler."
He was, at least, in the eyes of the NCAA descending order list. Soratos, a 22-year-old senior, ran 4:05.18 on Jan. 16 at MSU's flat, 200-meter track in Bozeman, which converted to a 3:56.87 for NCAA qualifying purposes, thanks to the race being run at altitude (4,926 feet) and on a flat track.
Some fans of the sport were skeptical, however. After that race, "people were really raising their eyebrows at Cristian's converted time, which is fine," MSU coach Lyle Weese says. "People can have their opinions."
Continue reading at: www.runningtimes.com