Crown City Mile to offer $1000 bonus to winner for breaking 4 minutes in the Mile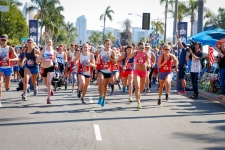 July 03, 2019
Same bonus also offered to winning woman for breaking 4:25; second edition part of Coronado's 45th annual 4th of July Run: The Crown City Classic
From Easy Day Sports
Race organizers in conjunction with Crown City Mile's presenting sponsor Milestone Running, are offering $1000 to any man who wins and breaks 4 minutes in the Mile (sub-4) and / or woman who wins and goes sub-4:25. The second edition Crown City Mile is the newest addition to Coronado's 45th annual 4th of July Run. The Crown City Classic features a 12K (7.4 miles), 5K, the Crown City Mile and a kids ½ mile.
After runners complete their 12K or 5K runs, crowds will congregate on Orange Avenue for Coronado's annual Independence Day parade. Just prior to the parade taking off, the Crown City Mile will start at 9:20am. It is estimated that 10,000-plus spectators will be on-hand, lining the grass median on Orange Avenue for this event. Divisions include Men, Women and Youth (ages 17 & under). Prize money will also be awarded to the top three men and women ($200, $100 and $50).
The Crown City Mile is also a BBTM Featured Event, showcasing America's best Mile races throughout the year.
"There is something special about the Mile, it is a test of speed, and an ultimate measure of fitness. We want to see this event grow and be known as one of the fastest road Mile races in the United States," said Jamie Monroe, race director. "The opportunity to run down Orange Avenue and represent the sport of running as the unofficial first float in San Diego's largest Independence Day Parade is also a great perk!"
All Crown City Mile runners will receive a custom race singlet with entry and are encouraged to wear it and represent "4th of July Town USA: Coronado!"
Learn more at: CrownCityRun.com