CU to Honor Historic Rio Olympic Medalists Coburn & Simpson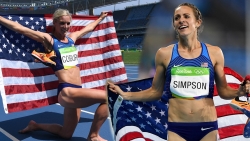 September 27, 2016
Former NCAA champions for the Colorado track & field and cross country teams to be recognized at several events on Saturday, October 1
By Linda Sprouse, CU Boulder
BOULDER — University of Colorado will honor its two Olympic Bronze Medalists, Emma Coburn and Jenny Simpson, on Saturday, October 1 at a variety of events.

The day will start off for the former Buffs at the 31st Annual Rocky Mountain Shootout, CU's only home cross country meet, at Buffalo Ranch on CU's South Campus. They will serve as the official starters of the meet, which includes two races – the men will run an 8K race at 9:00am and the women will race a 5.8K run at 9:45am.

After the cross country meet, Coburn and Simpson will head to Folsom Field for the CU football game against Oregon State, which is scheduled for a 12:30pm start. They will spend time with the Alumni Association and Alumni C-Club at their tailgates before heading inside the stadium. The duo will be honored during the break between the first and second quarters.
Continue reading at: www.cubuffs.com