Dream Mile invites Sarah and Shea to run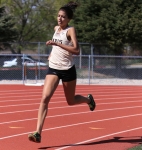 May 23, 2013
By Standard-Examiner staff
Sarah and Shea left for New York City Thursday, intent on living a dream.
Ogden High junior Sarah Feeny and Davis High senior Shea Martinez, two of Utah's brightest young distance runners, traveled Thursday to New York City in preparation for Saturday afternoon's running of the adidas Dream Mile.
Both runners definitely earned their trips.
Martinez found she had earned an invite to the select event on Mother's Day. Feeny was invited by a phone call following her record-setting performance at last weekend's state 3-A track and field championships.
The pair, along with Park City's Ben Saarel, will compete in the boys and girls races at Randall's Island, N.Y. The races are set to be contested at 1:02pm (boys) and 1:12pm (girls) MDT.
The Dream races will be streamed live on flotrack.com.
For Martinez, the trip to the Big Apple is nothing new. A year ago, former Davis High runner Brad Nye participated in the Dream Mile on the boys side, and according to Davis coach Corbin Talley, Nye's description of the competition really injected a lot of enthusiasm into the Darts distance runners.
"She's excited," Talley said.
Continue reading at: www.standard.net