Drew Hunter, nation's top-rated distance runner, commits and signs with Oregon Ducks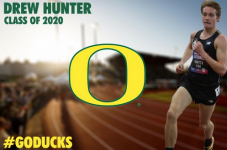 November 17, 2015
"I want to be a part of special and there's no program out there that has the richness of tradition. All the names of the school record holders... it's incredible."
By Andrew Nemec, The Oregonian
While most Oregon Ducks fans spent Thursday anxiously awaiting the announcements of Ryan Kelley, the nation's top uncommitted class of 2017 quarterback, and five-star power forward T.J. Leaf, an equally talented, but less recognizable athlete was also planning to make headlines.
Kelley picked Oregon. Leaf chose UCLA. And Drew Hunter, the nation's top distance runner and 4:02 Miler according to Saucony Flo50 cross country rankings, signed a National Letter of Intent to the University of Oregon.
TrackTown USA, indeed.
Continue reading at: oregonlive.com