Grand Blue Mile Fields Taking Shape for USATF 1 Mile Road Championships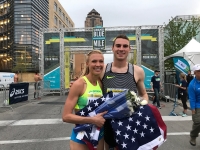 April 23, 2022
Past race champions Murphy, Lipari, Follett returning to the streets of Des Moines; $25,000 prize purse with $5000 for each national champion
From Grand Blue Mile
DES MOINES - Grand Blue Mile officials from Wellmark® Blue Cross® and Blue Shield® and the Drake Relays presented by Xtream powered by Mediacom® have announced preliminary fields for the 2022 USA Track & Field (USATF) 1 Mile Road Championships presented by Toyota® set for Tuesday evening, April 26, in downtown Des Moines. A world class field of elite Milers will headline the BBTM Featured Event along with more than 2,000 participants from across the nation who will compete among the competitive and community recreational divisions, in person or virtually.
"We're excited to continue our longstanding tradition of welcoming America's best athletes to the Grand Blue Mile in partnership with the Drake Relays," said Chris Verlengia, Wellmark's marketing activation and alliance manager and Grand Blue Mile co-race director. "These athletes embody the true spirit of the Grand Blue Mile — a commitment to healthy habits and the perseverance to achieve their goals. Whether you're a running enthusiast aiming for a new personal best or simply enjoying a walk with your family, we can't wait to see you on April 26."
This year's race returns to downtown Des Moines and features a top prize of $5000 each for the men's and women's champions. Overall, $25,000 in national championship prize money going 10-deep per gender will be awarded.
In the men's division, returning is two-time Olympian in the 800m and 2017 GBM champion Clayton Murphy who will be joined by:
►Ben Blankenship – 2016 Olympian and two-time USA champion
►Bryce Richards – Medalist in the Mile for Kansas in the Big 12
►Colin Abert – 6th place Boston Athletic Association (BAA) Mile in road Mile debut
►Craig Nowak – Two-time Drake Relays champion in the 4×1600 and DMR with Oklahoma State
►Diego Zarate – All-American in the1500m at Virginia Tech, making his road Mile debut
►Hillary Bor – Two-time Olympian in the 3000m steeplechase, Drake Stadium Record Holder Steeplechase
►Jake Edwards – 2019 Drake Relays champion in the Invitational Mile
►Josh Yeager – 2021 Drake Relays Steeplechase champion, Missouri Valley Conference 5000m champion representing Drake, former Iowa prep at Center Point-Urbana HS
►Luca Chatham – NCAA Qualifier for UTSA, Conference USA 800m champion
►Matt Cooper – All-American at UW-Eau Claire
►Nate Sloan – Atlantic Coast Conference 1500m runner-up for University of Pittsburgh
►Paul Ryan – 2021 Olympic Trials 1500m semi-finalist, All-American 1500m for Washington State
►Shane Streich – American Record Holder Indoor 1000m, 2021 All-American Lipscomb
►Vincent Ciattei – 2021 Olympic Trial 1500m finalist, 2018 NCAA Indoor DMR champion at Virginia Tech
►Willy Fink – Two-time NCAA qualifier Steeplechase, 2016 2nd place Drake Relays Steeplechase
In the women's division, Emily Lipari returns in pursuit of a third championship, having won the event in 2018 and 2020. She will be joined by:
►Abbey (D'Agostino) Cooper – 2016 Olympian in the 5000m, 7 x NCAA champion for Dartmouth
►Alex Teubel – 2021 Olympic Trials finalist in the Steeplechase, Missouri Valley Conference champion at UNI, Iowa state champion at Mt. Vernon-Lisbon HS
►Allie Wilson – Two-time All-American in the 800m at Monmouth
►Andrea Ertz – Second fastest women's NAIA 800m, 8 x NAIA All-American at Mt. Mercy, Iowa prep at Marion HS
►Anna Connor – Road Mile PR of 4:48 at the 2018 Grand Blue Mile
►Emily Richards – 9 x NCAA Division 3 national champion at Ohio Northern
►Gina McNamara – Big Ten medalist in the 800m for Michigan
►Jamie Morrissey – Big Ten 800m champion, two-time All-American for Michigan
►Jenn Randall – Two-time All-American for Ithaca
►Karisa Nelson – 2017 NCAA Indoor Mile champion, 2019 NCAA runner-up at Samford University
►Katie Follett (nee née Mackey)– 2017 GBM champion, All-American for University of Washington
►Lauren Berman – All-American at Virginia Tech
►Alycia Cridebring – 2016 State Street Mile champion
►Sammy George – All-American at North Carolina State, 7th at 2021 Drake Relays 1500m
Set the Pace and win $10,000 for your community
Also returning to the Grand Blue Mile is Wellmark's Set the Pace Challenge. As part of the challenge, the community with the highest percentage of residents participating in Grand Blue Mile ─ either in person and/or virtually ─ will win $10,000 to use on a project that promotes safe, inclusive and accessible places in which to be active.
Participation in Grand Blue Mile will be tracked via the ZIP Code of each registrant and weighed against their community's total population. The current leaderboard (city/ZIP) is:
►Columbus Junction (52738)
►Windsor Heights (50324)
►Cumming (50061)
►Des Moines (50312)
►Des Moines (50311)
"With registration open through April 26, there's still plenty of time to get your community in the running for this impactful award," said Verlengia.
Register today!
Registration for the in-person event is $20 for youth and $25 for adults and the virtual event is $25, all participants will receive a Grand Blue Mile event shirt and race bib. As part of Wellmark's commitment to improving the health of Iowans, all proceeds benefit Iowa Kidstrong youth fitness programs and support student participation in the annual Drake Relays.