Haddon Township Miler Luke Petela record-setting day at New Balance Nationals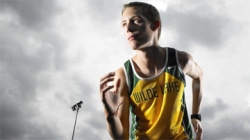 March 17, 2015
"I'm really confident, and I feel mentally strong to do something more so I'm ready to do whatever it takes to be best I can be."
By Patrick Lanni, NJ Advance Media for NJ.com
Luke Petela of Haddon Township broke a long-standing Camden County record in the Mile and moved up amongst the all-time greats in New Jersey history Sunday at the New Balance National Championships in New York City.
The University of Pennsylvania-bound senior blasted a 4:13.36 at The Armory to take down the record of 4:15.5 set by Marty Ludwikowski of Cherry Hall West 40 years ago.
The time also put him 16th in New Jersey history and third amongst runners from South Jersey.
Petela nearly missed shattering the South Jersey record of 4:11.42 set by Miles Schoedler of Ocean City in 2011.
"I didn't feel too good the whole way through, but I'm just glad I finished the way I did," said Petela, who two weeks ago ran a personal best 4:16.62 to win the Mile at the NJSIAA Meet of Champions.
Petela's record-breaking run Sunday earned him a seventh-place finish, one spot shy of earning All-American status.
Continue reading at: highschoolsports.nj.com