Hiltz, Prakel win Downtown Yakima Mile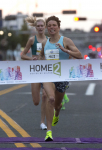 August 28, 2021
Women's race champion clocks fastest Mile on Washington state soil to collect $5000 bonus
Race reports by Scott Spruill & Luke Thompson, Yakima Herald-Republic & BBTM
YAKIMA, Wash. – Reaching North First Street, Nikki Hiltz knew it was time to go. Or very likely lose.
So when the road Mile veteran hit the marker, the hammer fell and so did the event record.
On the point-to-point, downhill USATF certified course, Hiltz pulled away from Eleanor Fulton over the final two blocks to capture the women's elite race at Saturday evening's Downtown Yakima Mile and doubled the payday to $10,000 by clocking the fastest women's Mile on state soil with a time of 4 minutes, 21.5 seconds (4:22 official).
Fulton, who was third in the inaugural race in 2019, pushed her friend and rival to the finish and was second in 4:22.8 for a $3000 runner-up paycheck. Hiltz earned $5000 for the win plus a $5000 bonus for beating Washington's previous Mile record of 4:23.68. Another five grand was available if Hiltz had dipped under 4:20.
"I've actually done a lot of road Miles because I think they're so fun," said the 26-year-old Hiltz, a six-time NCAA All-American while at Oregon and Arkansas who runs for adidas. "I know from experience that who's ever winning with 300 meters to go, that person wins 90 percent of the time. So I told myself that anywhere from 400 to 200 to go, I've got to take the lead no matter how much it hurts."
Hiltz, who won the Boost Boston Games road Mile in 4:31 earlier this summer, shattered Therese Haiss' course record of 4:29 from 2019.
"Eleanor had a great race and it's because of her that I broke the record. She helped me find another gear," Hiltz said after taking a victory lap of sorts up and down the finish line area. "Not a lot of races have this kind of prize purse for Milers, so that's a real draw. For a lot of us the season's over, so this was a great chance to make some money. But even if I hadn't won any, it was still a lot of fun."
A pair of Washington high school graduates with specialties in other events — Marisa Howard and Tokyo 2020 British Olympian Amy-Eloise Markovc — dueled to the finish in third and fourth, respectively, in 4:24.3 and 4:24.4.
In the men's race, road Mile experience also paid off for Sam Prakel.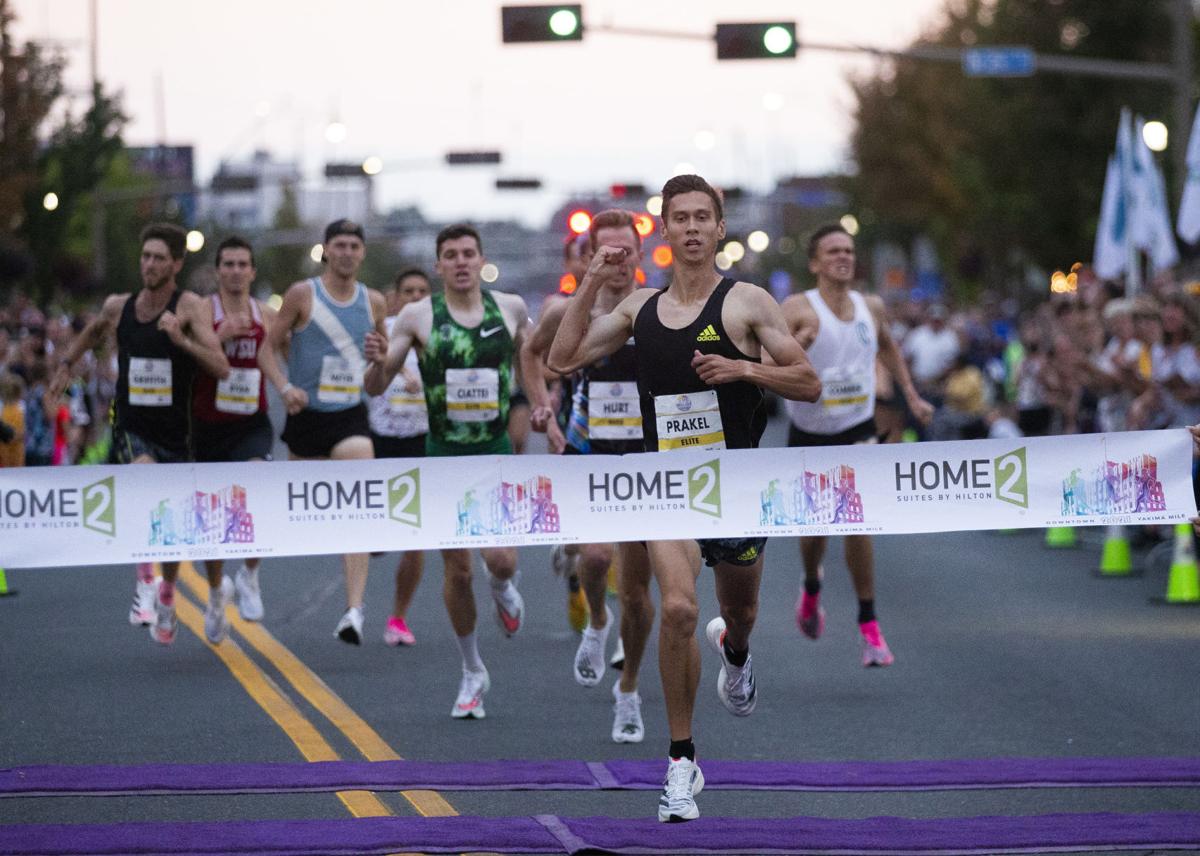 The former Oregon All-American outsprinted a competitive field over the last 200 meters to hold off 2019 runner-up Tripp Hurt by less than a second. Prakel won the $5000 first prize in a time of 3 minutes, 54.9 seconds less than a month after finishing second at Cleveland's Guardian Mile.
"It's been a while since I won a race so it feels pretty good," Prakel said. "Really just put it all out there in the last 100 but it felt like I had a lot left, so I was pretty confident that if I made a definitive move I would come away with the win."
Prakel, 26, knew the field would go out fast early in the most downhill portion of the race, so he tried to just stay close and keep a clear path to the front. The winning time wasn't enough to earn an extra $5000 bonus for beating the fastest Mile on Washington soil of 3:51.76 run by Amos Bartelsmeyer at the inaugural event in 2019.
Rio Olympic champion Matthew Centrowitz said Friday the Tokyo Olympics took a large emotional toll, and he finished 10th as the top 12 runners went sub-4 minutes. Prakel said he tried to stay close to Centrowitz and Vince Ciattei, who ended up third in 3:55.8.
Thick early morning smoke largely cleared up by the evening, and Prakel said he enjoyed the atmosphere that included a sizable crowd lining the course on Yakima Avenue. He's planning to finish his 2021 season at the Fifth Avenue Mile in New York City in two weeks.
This year's event supported YWCA Yakima, the largest provider of domestic violence services in Yakima County. The YWCA provides the only shelter of its kind in the city of Yakima
2nd Downtown Yakima Mile presented by Home2 Suites by Hilton-Yakima Airport
BBTM Featured Event
Yakima, WA, Saturday, August 28, 2021
MEN
1) Sam Prakel (WA), 3:55, $5000
2) Tripp Hurt (CO), 3:56, $3000
3) Vince Ciattei (OR), 3:56, $1500
4) Jordan Gusman (AUS / MLT), 3:56, $1000
5) Casey Comber (PA), 3:56, $750
6) Brett Meyer (KS), 3:56, $500
7) Paul Ryan (WA), 3:56
8) Cameron Griffith (AUS), 3:56
9) Isaac Updike (AK), 3:56
10) Matthew Centrowitz (OR), 3:57
WOMEN
1) Nikki Hiltz (CA), 4:22*, $10,000
2) Eleanor Fulton (WA), 4:23, $3000
3) Marissa Howard (ID), 4:25, $1500
4) Amy-Eloise Markovc (GBR), 4:25, $1000
5) Sage Hurta (CO), 4:28, $750
6) Taryn Rawlings (AZ), 4:28, $500
7) Jenn Randall (OR), 4:35
8) Alexa Efraimson (OR), 4:41
9) Anna Connor (OR), 4:53
10) Ashley Maton (WA), 4:55
*event record (previous record, 4:29, Therese Haiss (CA), 2019); includes $5000 bonus for the fastest Mile on Washington soil, (previous fastest mark, 4:23.68i, Shelby Houlihan (OR), Seattle, WA, 02/01/20)
Find complete event results HERE.
PHOTO CREDIT: Evan Abell / Yakima Herald-Republic