Hundreds Turnout for Family-Friendly Fun at Boulder's Pearl Street Mile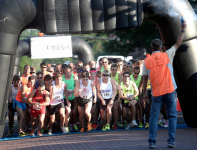 July 11, 2013
By Joe Rubino, Daily Camera
BOULDER, Colo. - It was a ways off the times posted in the men's competitive wave, but Justin Perry, of Westminster, had a lot to be happy about with his finish in the "non-competitive" wave of the Pearl Street Mile footrace.
Not only did the 13-year-old shave more than four seconds off his time from last year's mile, he won his wave Wednesday evening, finishing with a time of 5 minutes, 29 seconds.
"It's just fun in general," Justin said of running, a sport he's embraced for five years.
He celebrated his victory with his parents, Annabelle and Jim. It was dad, a longtime runner himself, who recommended Justin run the mile, the signature event of Boulder's Downtown Boulder Race Series.
"I used to run this race years ago," Jim Perry said, adding that he always enjoyed it. "I kind of passed the torch on to him."
With the men's and women's competitive waves, the non-competitive and downtown Boulder business waves and the kids' half-mile race, the event drew an estimated 400 entrants this year, according to Downtown Boulder Inc. organizers.
That's not to mention the friends, family members and other onlookers gathered on the mall to check out the race before That Eighties Band took the nearby Band on the Bricks stage.
"It's great to see everyone in the community come out and enjoy downtown," race series manager Joanna Ackley said. "The race welcomes people of all ages and abilities. For some people, this is their first race, and then we get some elites and Olympic athletes."
Continue reading at: dailycamera.com