Jenny Simpson on returning to Boulder: 'My racing confidence is back'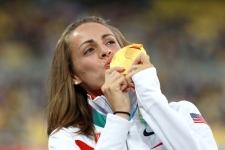 June 26, 2013
CU grad to defend 1500 meter world title in Moscow this August
By Mike Sandrock, Daily Camera
When Jenny Simpson was an undergraduate at the University of Colorado, on her way to getting a degree in economics and political science and winning five NCAA titles, she would at times bump into a Nobel Prize-winning scientist, world class musician or one of the myriad endurance athletes living here.
Such is the essence of Boulder, and it is a spirit that Simpson, the defending world champion over 1500 meters, missed when she moved to Colorado Springs after finishing up at CU and signing a professional contract with New Balance.
Now, Simpson, a two-time Olympian and the U.S. record holder for the 3000 meter steeplechase, has moved back to Boulder, in part because of the spirit of constant "striving" and fulfillment she and her husband, Jason, find in town.
"There really is a culture of excellence here," said Simpson, 26. "There is a desire to be always curious and striving for something better than before. You can be at a random dinner party and find a common theme of people trying to do something great, new and fulfilling to them."
Count Simpson, a CU volunteer assistant coach, among those pursuing excellence. After a decent 2012 track season -- when she made her second U.S. Olympic team -- she reunited with her college coaches, Mark Wetmore and Heather Burroughs, beginning in early December.
The move has gone well, Simpson said in a recent interview at the Balch Fieldhouse, after finishing an easy run with the just-graduated Buff Pac-12 steeple champ Aric Van Halen and CU Olympic steeplechaser Shalaya Kipp.
Continue reading at: http://www.dailycamera.com