Lipari, Ciattei win thrilling USATF 1 Mile Road titles at Grand Blue Mile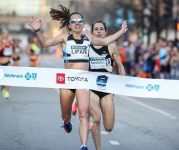 April 26, 2022
National championship race awards $25,000 with $5000 to each USA champion
From Drake Relays
DES MOINES — The Grand Blue Mile presented by Wellmark Blue Cross Blue Shield returned to downtown Des Moines on a beautiful Tuesday evening, for the first time since 2019, and the event again hosted the prestigious USATF 1 Mile Road Championships and also featured recreational and competitive divisions with more than 1,300 finishers overall.

For the USATF 1 Mile Road Championships presented by Toyota, 24 elite milers from across the country traveled to Des Moines to vie for a national title and $25,000 with $5000 for each national champion.
In the women's race, Emily Lipari, 29, defended her national title, and her third overall, to finish first in the group of 11 runners, with a winning time of 4:32.30 (4:33 official). Just behind Lipari, Jenn Randall and Alexina Teubel placed second and third, running 4:32.68 (4:33) and 4:34.28 (4:35), respectively.
"The community here is amazing," Lipari told race announcer Mike Jay who mentioned that Lipari had won all three of her USA road Mile titles in Des Moines. "You're coming down that final 200 and people are screaming and cheering and I just really love the positive energy here; it makes me thrive."

Like the women's race, the men's race came down to the final strides with Vincent Ciattei finishing on top out of the 13 competitors, clocking 4:03.20 (4:04). Paul Ryan and Shane Streich followed right behind Ciattei, in 4:03.74 (4:04) and 4:04.12 (4:05), respectively.
"I'm 27 and it's my first one [national title]," said a happy Ciattei in his post-race interview. "I had to be patient and think it would come eventually. I thought it might come on the track, but a road one is pretty sweet, too, so I love it."
In the fan favorite Mascot Madness Charity Challenge, Cy with Iowa State University was the winner, taking home a $1000 prize for their charitable foundation. Cy edged out T.C. with the University of Northern Iowa and Herky with University of Iowa who finished in second and third place, respectively.
13th Grand Blue Mile: USATF 1 Mile Road Championships presented by Toyota
BBTM Featured Event
Des Moines, IA, Tuesday, April 26, 2022
MEN
1) Vincent Ciattei (OR), 4:04, $5000
2) Paul Ryan (ID), 4:04, $2500
3) Shane Streich (GA), 4:05, $1500
4) Clayton Murphy (OH), 4:05, $1250, 2017 GBM champion
5) Josh Yeager (MN), 4:05, $1000
6) Willy Fink (MD), 4:06, $500
7) Luca Chatham (TX), 4:06, $300
8) Diego Zarate (AZ), 4:07, $200
9) Nate Sloan (CO), 4:07, $150
10) Bryce Richards (IL), 4:07, $100
WOMEN
1) Emily Lipari (CT), 4:33, $5000
2) Jenn Randall (OR), 4:33, $2500
3) Alexina Teubel (IA), 4:35, $1500
4) Allie Wilson (GA), 4:37, $1250
5) Alycia Cridebring (AZ), 4:41, $1000
6) Anna Connor (OR), 4:41, $500
7) Emily Richards (OH), 4:45, $300
8) Lauren Berman (VA), 4:47, $200
9) Karisa Nelson (AL), 4:50, $150
10) Katie Follett (CO), 4:59, $100, 2017 GBM champion
Complete race results: https://www.grandbluemile.com/results/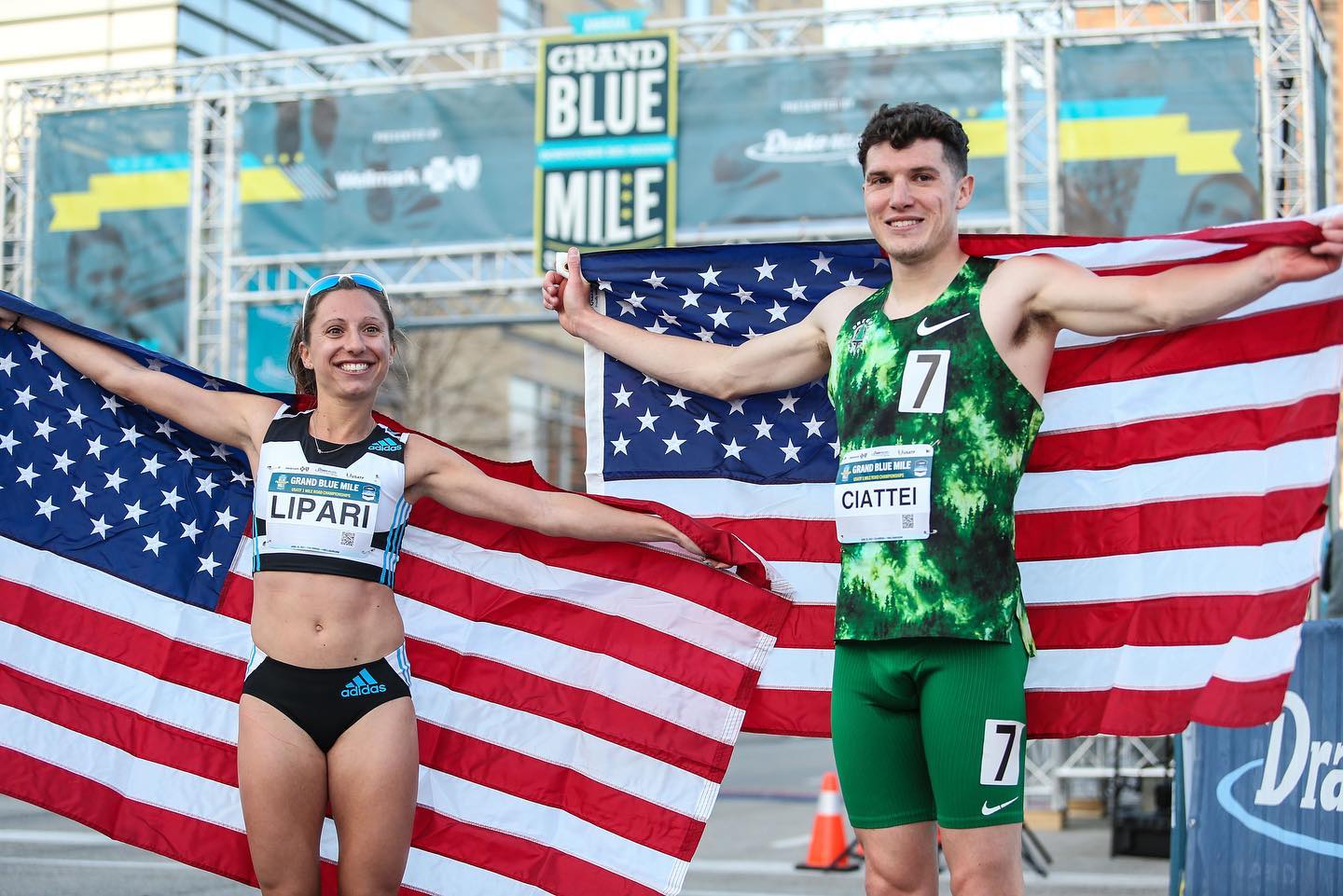 CREDIT: Jeff Corcoran