Making the Most of Your Mile: Ray Flynn Mile at the Tri-Cities Track Classic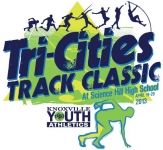 April 18, 2013
Tri-Cities Track Classic in Johnson City, TN to honor Ray Flynn with HS Boys' Mile
By Bring Back the Mile
JOHNSON CITY, Tenn. - The Tri-Cities Track Classic, organized by Knoxville Youth Athletics, is hosting its annual Track & Field festival for the first time at Kermit Tipton Stadium at Science Hill High School in Johnson City. Also new this year will be the addition of the Ray Flynn Boys' Mile. Named after one of the all-time Mile greats, the high school Mile will feature some of the top talent in the area.
Looking to complement the Markie Voyles Girls' Mile, which was named after a state champion that was tragically killed in a 2008 car accident, meet organizer and director of Knoxville Youth Athletics, Marty Sonnenfeldt, looked no further than one of the best athletes in Johnson City's own back yard. Below, Marty provides a look at the event and previews both Miles. The Tri-Cities Track Classic is a member of the inaugural Bring Back the Mile Tour.
BBTM: Walk us through the idea of naming the Boys' Mile after ETSU and Irish great, Ray Flynn?
Marty: Ray and I go back a long way. Ray as you know attended Eastern Tennessee State University and I attended rival University of Tennessee in Knoxville just 100 miles down the road from each other. We competed against each other primarily in Cross Country and needless to say, but I spent more time looking at Ray's shorts running behind him than he did mine. We have stayed in contact over the years and with the meet's move to Johnson City, I thought it was natural to honor Ray in his own backyard.
When you think about what he's done in the sport from being a sub-3:50 Miler to now agent and meet director, I'm thrilled to think about the next generation of athletes being inspired by his story and accomplishments.
BBTM: What has been the feedback in putting on a Mile, especially a High School Mile?
Marty: You know, we've had no complaints from the federation and coaches are warming up more and more to the Mile run. In Tennessee, Mile times do not count toward post-season qualification, but then again non-FAT 1600m times do. So, why not accept the Mile? The Mile is special and we're just not a metric society; why are we shying away from this move back to the Mile?
BBTM: Tell us a little bit about the Mile fields
Over the years we have had some great Milers come through the Tri-Cities Track Classic and this year is no different. Headlining the Ray Flynn Mile will be Aaron Templeton from Hardin Valley Academy in Knoxville. Aaron finished seventh at the Footlocker Cross Country Championships in December and is also coming off a seventh place finish at the Brooks PR Invitational where he ran a 9:08 two Mile.
In the Girls' Markie Voyles Mile I anticipate we'll have a good group vying to go under five minutes. It should be a great race. Both races will be Saturday afternoon and are always a highlight of the weekend. We have approximately 600 student-athletes competing in the two day festival and I always look forward to seeing the great races that take place as the season makes its way past the mid-way point.
BBTM Note: Marty's son, Matt, is a senior at North Carolina State University and has personal bests of 4:08.08 in the Mile and just set a 5000 meter best of 13:59.10 at the adidas Raleigh Relays. Marty will do the parent double, driving eight hours round trip to see Matt compete at the ACC Championships, returning in time for the start of the Tri-Cities Track Classic. Good luck and Go Mile!