Making the Most of Your Mile: Virginia Mason Memorial Downtown Yakima Mile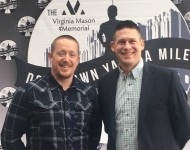 June 06, 2019
Second stop on BBTM Grand Prix Tour 2019 features more than $25,000 in prize money for its inaugural event: "We're going to put Yakima on the map!"
By David Monico, Bring Back the Mile
Build it and they will come. Thanks to Kevin Costner, it's as cliché as it gets in sports and business. For Chris Waddle, a founder of the inaugural Virginia Mason Memorial Downtown Yakima Mile, it's literally his life's work. As co-founder of Hogback Development, his company develops property in the Pacific Northwest with a particular focus in Yakima, WA. So, when it came to building a Mile event, he went at it the only way he knew how – all in.
Waddle and his event's co-founder Erik Mickelson, CEO of Howard's Medical Supply, haven't just started a Mile event, but are developing an environment that puts Yakima on the national map. From a $25,000-plus prize purse plus bonuses to a live feed of the race at the finish line on a jumbotron, Waddle and Mickelson, want the Yakima community to not only enjoy themselves on a unique Saturday night, but bring them up close and personal with professional Milers from around the country.
We sat down with Waddle to discuss his approach to launching and organizing the Yakima Mile, the second stop on the BBTM Grand Prix Tour 2019.
BBTM: You just left Bring Back the Mile's hometown, where your son competed in the 20th State Street Mile. How did it go for Aiden?
Waddle: It was fantastic. It started out really well, just because it was fun to have my son there, and have him run well. It was a 35-second PR for Aden, if you convert it to a 1600. He's never run a Mile before.
The Dog Mile world championship was awesome. I can't believe how fast that guy ran with his dog. It was insane. I also enjoyed the drum line, I think we'll steal that idea and have competing drum lines with two of our major High Schools.
Speaking of schools, the Yakima Mile is supporting the local school district.
Yeah, proceeds of the event will benefit the Yakima School District and their Violence Prevention Program.
You also have Virginia Mason Memorial as your title sponsor. Tell us a little more about that partnership.
Virginia Mason is based in Seattle and owns the hospital here in Yakima called Memorial Hospital, that is why it's called the Virginia Mason Memorial Downtown Yakima Mile. They are our presenting sponsor and they have contributed funds for this race in order to make it so that every kid under the age of eighteen runs for free. At the Yakima Mile, everybody under eighteen runs for free, no matter how fast they are. No matter what race they're in.
OK, let's visit your starting line. How did this event come about?
Erik and I were both competitive collegiate runners and we actually ran against each other in Washington state, in high school. He was from the west side, I was from the east side. He was a year older than me. We both ran the 800 and the Mile. And then he went off to Nebraska and I went to Manhattan and then Georgia and we actually competed against each other a couple more times in college. He then ended up marrying a friend of mine, a runner from Yakima, and moved out here.
Erik started a track & field program for kids called Sun City Track & Cross Country, and I was helping him coach that. And we said, "Hey, wouldn't it be cool if there was a Mile, down Yakima Avenue, the Yakima Mile?" And we both said, "Yeah, that would be really cool." That was about five years ago. About a year and a half ago, when we hired Michelle [Blanchard] and I mentioned to him, "Hey, we've got somebody who's really good at events. We could actually do this now." So we shared the idea with Michelle, and then we started a strategic planning committee, and then just went for it.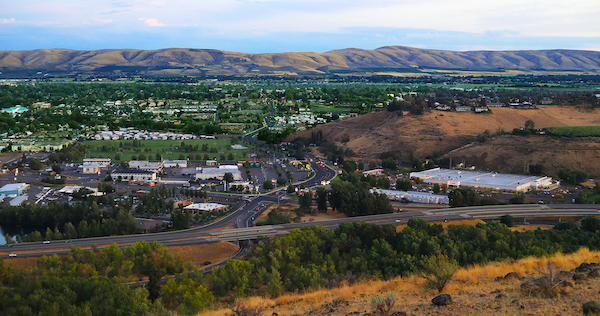 What other running events are in Yakima?
There's the Yakima Marathon, which is pretty well-attended. It is getting quite a bit of press now, just because it's such a unique course, going through the Yakima Canyon. They shut the whole canyon down for the day. Other than that, no, there are not other popular road running races in eastern Washington, other than Bloomsday, which we're about three hours from.
Yakima's never seen anything like this and frankly, unless you really understand what we're doing or you're part of the running community and you know what all of these times mean and things like that, you still don't completely understand what we're doing.
We're constantly trying to share that vision with the city, with the media around here and getting them to buy in and understand this is huge. After this next Saturday night, there's a lot of people that are going to hear about Yakima, Washington that never knew about Yakima, Washington. Because we're about to have some fast Miles go down. I think the Washington State women's record [4:27] has an especially good chance of going down. The 3:52 state record for the men will be a bit more difficult, even with our 30 feet of elevation drop, but with our field we should definitely see multiple sub-4 Miles.
Why did you focus on the Mile and not a Half Marathon or a 5K?
Everybody can run a Mile. And that's what we really liked about the event.
I did what any self-respecting journalist would do ahead of this call to learn about Yakima and went on Wikipedia. I was surprised to learn the Yakima region produces 77% of our nation's hops! What else do we need to know about what to expect on Saturday night about Yakima?
We actually have one of the country's largest beer festivals, the Fresh Hop Ale Festival in October. As for our event, we have a straight course, not unlike the State Street Mile, with four wide open lanes on Yakima Avenue heading toward the historic A.E. Larson Building, an 11 story art-deco building. There's a number of pretty unique older, art-deco building along the promenade, but runner's will see the Larson building the whole way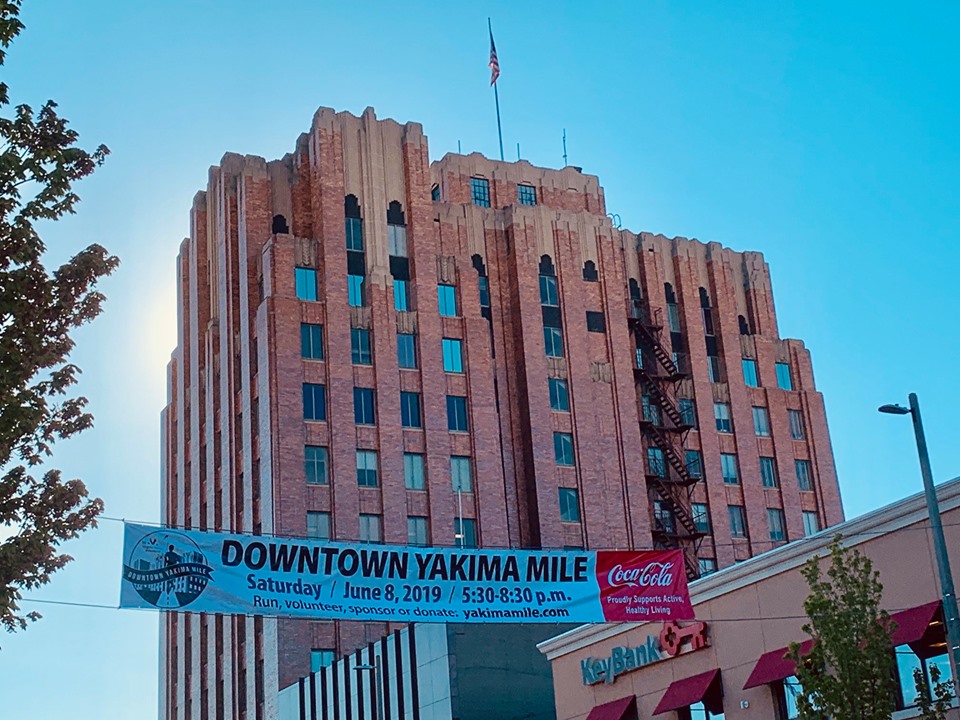 down.
We've setup the race in the evening as well. I always used to love evening races when I was running in college. I loved the Knoxville Twilight Track & Field Series, where you might run the 800 at 9:00pm. We'll also have a big jumbotron LED screen and a drone following the races for a live feed at the finish. We also have a sound system going all the way up Yakima Avenue, so the runners will be engaged for the entire Mile.
That's a pretty amazing inaugural year setup.
People keep asking me, "Why are you doing this? You guys are a real estate development company. You build hotels. Why are you putting on an event? You're not an event management company." We're really good at raising money, leveraging relationships and resources, and building things. If you look at it from that perspective, we're developing a race. We are leveraging resources and raising money. That's what we're good at. We've raised close to $100,000.
I think one of the things you're going to see with our event, in its inaugural year, which is probably a lot different than a lot of other races, the way they start, is we're kind of all in.
Michelle's been working on this for almost a year and a half. Not exclusively as part of her job with Hogback, but well over 50% of her time for the last year and a half has been the Yakima Mile. Not in a volunteer position. This is her salaried job, to put on the Yakima Mile.
And how do we have all these elite runners coming in the inaugural year? Well, because we raised a bunch of money, we're offering a whole bunch of prize money, and we're offering stipends to them to come to our race.
When we've spoken to sponsors and answered the question, "Where is my money going?", we're very clear with our approach. All of your money is going to put on the event, and then there will also be some amount of money that will go to the school district's violence prevention program. But, the majority of the money has been to simply put on the event.
The reason why we want our sponsors to join us is because these are all local companies and we are selling Yakima. Our product is Yakima. And everybody within the community has a vested interest in selling and marketing Yakima, and this is just another way to do that. So we're going to all come together, we're going to put this event on, it's going to cost some money, and it's just another way that we're going to put Yakima on the map.
Hogback Development started off by raising $25,000 and providing staff time. Nobody likes to be the first person in when you're raising money, so that helped. That's what we can do putting this on in the private sector, whereas if you were just a group of volunteers who just really like running or even a non-profit organization trying to put something on to raise money for your organization, that's really hard. It's hard to do that with just a group of volunteers.
How did the City of Yakima itself receive it? Were there any logistical challenges?
We're shutting down all of Yakima Avenue for the middle of the day. And we did get pushback. They tried to put us on a Sunday morning. They tried to give us different weekends than we wanted. And we just didn't take no for an answer. We just kept coming back and sharing the vision. We looked at it as if we were permitting a project. It was just as if Michelle and I were going to put a Starbucks on Yakima Avenue. We were told no three different times by the city, as far as closing down the street on a Saturday night for hours and hours. We were just very persistent. We're not doing this outside of our own hometown. This is where we're based. This is where we do the majority of our work.
What has been the feedback on the elite athlete side with a decent size prize purse?
I'm kind of floored after this weekend at what our field looks like. We have somewhat close to eighteen or twenty sub-4 minute Milers on the men's side. Then in the women's field, we've got multiple NCAA champions plus three-time BBTM GP Tour champion Heather Kampf and Therese Haiss, recent State Street Mile winner.
We knew from the very beginning that we're not Santa Barbara. We're not Washington, DC. We're not even downtown Seattle. We're Yakima. Most people don't know where Yakima is. They don't know what Yakima's all about. If we want to get people from all across the country, the top runners, especially during the Portland Track Festival, to come to Yakima, we're going to have to offer up quite an incentive. So from the very beginning, we said minimum $25,000. We're going to do some other bonuses on top of that making it more than $35,000. We're also offering some stipends and we also just happened to open a brand new Hilton literally last Thursday, so we blocked out a bunch of rooms.
Impressive, Chris. Thank you for your time and good luck on Saturday evening!
Thanks, David and to Bring Back the Mile.