Mary Cain's World Champs Chances Just Improved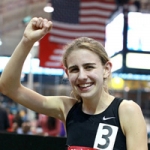 June 11, 2013
Top 1500 meter rival Brenda Martinez will focus on 800 at USA Outdoor Championships in Des Moines
By Peter Gambaccini, Runner's World
Yesterday, Brenda Martinez composed the tweet heard 'round the American women's middle-distance running world: "After speaking it over with my coaches. Decided to compete in the 800 meters @USATrack Field nationals!"
Martinez had been viewed as one of the rising U.S. stars in the 1500 meter or metric Mile race, and her decision not to do that event at the USA Outdoor Championships later this month makes the path to qualifying for August's World Championships much easier for a handful of runners, including high school star Mary Cain (right, PhotoRun).
This spring, Cain, 17, has set national high school outdoor records at 800, 1500 and 5000 meters and indoor Mile, but the 1500, in which she's the fourth fastest American woman in 2013, is her strongest event.
Besides the decision by Martinez, another key factor working in Cain's favor is Jenny Simpson's victory in the 1500 at the 2011 World Championships. Defending champions get automatic entry into their event at the Worlds so in the women's 1500, the United States gets to take four runners rather than the usual three.
Continue reading at: runnersworld.com