Matthew Centrowitz edges Robby Andrews to win the USATF 1500 in a great, last-lap duel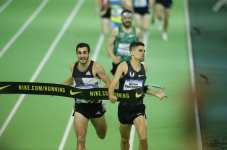 March 14, 2016
Centrowitz, Andrews earned two 1500 berths on Team USA for the World Indoor Championships in Portland.
By Ken Goe, The Oregonian
Robby Andrews has one of the best kicks in the trade, and Andrews had it loaded up.
He came wide off the last turn of the men's 1500 meter final in full sprint mode, and passed Matthew Centrowitz for the lead as the runners bore down on the finish line.
"I'm in front of him," Andrews said, "and I'm like, 'Oh, he messed up. He didn't save anything.'
"But the joke was on me."
Centrowitz used one last surge to retake the lead just steps from the line in the USA Indoor Track & Field Championships Saturday in the Oregon Convention Center.
Centrowitz finished with a winning time of 3 minutes, 44.33 seconds. Andrews was a close second in 3:44.40.
Continue reading at: www.oregonlive.com