Mile prep standout Kate Murphy set to join Oregon's champion cross country team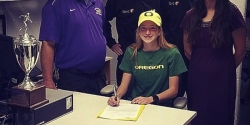 November 22, 2016
Murphy also said her friendship with freshman Katie Rainsberger was another factor that drew her to signing with the Ducks.
By Romaine Soh, Daily Emerald
After the Oregon women claimed their fourth NCAA Championship title in a huge upset last Saturday, the distance program is already in the works of building on their depth to keep their championship hopes alive for the future.
The first woman of the recruiting class of 2017 is high school senior Kate Murphy. The Lake Braddock student made headlines last season when she reached the semifinals of the U.S. Track & Field Olympic Trials in the 1500 meters or metric Mile.
Murphy said Oregon had been on her radar since sophomore year, and it had been a toss-up between Oregon and Villanova. Ultimately, the appeal of the west coast, along with Oregon's deep history of the Olympians that it had produced, won Murphy over.
"Oregon is the place I'd want to be," the Virginia native said. "Tracktown USA is just different. They have a supportive running culture as compared to other places where they don't know running as much."
Murphy holds a personal record of 4 minutes, 7.21 seconds in the 1500 meters, 4:39.47 in the Mile and 10:33.93 in the 2 Mile event.
Continue reading at: www.dailyemerald.com