More than 90 British Olympians are set to participate at Bupa Westminster Mile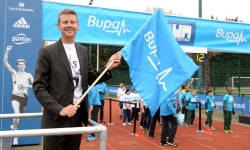 May 18, 2015
"The Mile holds a very special place in my heart and it's wonderful to take part in this race alongside so many of my fellow Olympians on such a special day." - Steve Cram
From Athletics Weekly
Steve Cram (right), Denise Lewis and Basil Heatley are set to be among the more than 90 British Olympians taking part in a special Mile event at the Bupa Westminster Mile on Sunday, May 24 in London.
The trio are due to form part of a field also featuring the likes of 1980 relay bronze medallist Joslyn Hoyte-Smith, 1980 figure skating gold medallist Robin Cousins, 1960 fencing silver medallist Michael Howard, 1996 400m freestyle swimming silver medallist Paul Palmer and 2006 skeleton silver medallist Shelley Rudman.
Britain's oldest living Olympian, 98-year-old Bill Lucas who ran in the 5000m at the 1948 Games in London, is to be the official starter. Many of the Olympians will be wearing their official Great Britain kit for the event.
This year's Bupa Westminster Mile celebrates the 30th anniversary of Cram's world Mile record of 3:46.32 which he set in Oslo in July 1985. That mark still stands as the British and European record.
Continue reading at: www.athleticsweekly.com