Newcomers Engels, Fields Kick to Win Aetna Falmouth Mile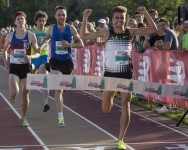 August 20, 2017
Griffin, Connolly capture boys & girls Tommy Cochary High School Mile titles
By Jon Mettus, Cape Cod Times
FALMOUTH -- On Saturday evening, it was the newcomers who came out on top at the Aetna Falmouth Elite Mile at Falmouth High School with Craig Engels picking up his first professional win and Hannah Fields setting a new personal record in their event debuts.
Engels, who just graduated from the University of Mississippi, came from behind and finished first among the men with a time of 4:00.19. Fields surged out of second place to take the top spot among the women in 4:28.32.
"Usually I just go out in second like right on whoever is leading," Engels said. "Today I was like, 'Ah God, I've been losing every single time. I'm gonna try something different. Luckily, with 100 meters to go I actually felt good which I usually don't."
"It's just kind of a mental battle of 'Alright, this hurts. Get over yourself, just stick with it, give yourself a shot by the last 200 and see what you have left,'" Fields said.
Engels surged in the last several hundred meters when a lane opened on the inside of the track to overtake two-time Olympic medalist Nick Willis, a New Zealand native, just before the tape. Willis took second at 4:00.47 and last year's runner-up Colby Alexander took third with 4:00.54. Engels was just following the professional in Willis, he said, before emptying the tank for the win.
Continue reading at: capecodtimes.com