Olympics : Mo's 'metric Mile'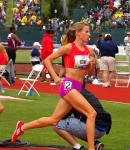 August 04, 2012
Plymouth native aims for Olympic history
By Tim Creason, South Bend Tribune
Morgan Uceny won't just be battling runners from Africa and Europe during her Olympic races in London.
The Plymouth native has to overcome history, as well.
No American has ever won an Olympic medal in the women's 1,500-meter run. Not a gold, not a silver, not a bronze.
So, when Track & Field News magazine -- called "The bible of the sport" by track fans -- predicted Uceny to finish third in its pre-Olympic edition earlier this week ... well, the writers were showing a lot of faith in the 2003 Plymouth High School graduate.
Continue reading at: southbendtribune.com