Ping sets World Record for Age Group Mile — again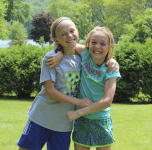 June 15, 2015
At 11 years old, Grace Ping ran a 5:07 Mile at the Nike Festival of Miles in St. Louis, a BBTM Featured Event.
By Amelia Wedemeyer, Winona Post
It's a rare moment in the life of the Ping sisters, Grace and Lauren, as they lounge together on a living room couch Monday afternoon, a week after school has let out. In a resting position the girls still look ready to run a race, do a cartwheel, or kick around a soccer ball. "We don't really watch TV shows," Lauren says.
While other kids might spend their summer vacations catching up on video games or enjoying marathon movie sessions throughout the day, the Ping sisters run races. At 11 years old — "almost 12," she clarifies as Lauren chimes in, "but she's not" — Grace holds several world records in running for her age, including her most recent record in the Mile, which she accomplished last Thursday at the Nike Festival of Miles in St. Louis. "I had been wanting to break the Mile world record just because, I don't know really why, but it was just fun to do," Grace explained. With a time of 5:07, Grace, who recently completed sixth grade at St. Stanislaus, also came in second overall in the junior high girls one Mile run. Meanwhile, Lauren, who will be a fifth grader at St. Stan's this fall, is no slouch, having clocked in at 5:41, earning her an 11th place position, 16 places higher than she was originally seeded.
Continue reading at: www.winonapost.com