Runners rejoice, the Mile is returning to Santa Rosa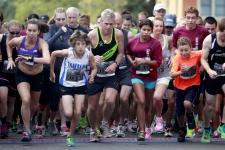 September 21, 2018
"In general, across the United States, there is growing fever of 'bring back the Mile.' It's just gaining momentum."
By Kerry Benefield, Santa Rosa Press Democrat
Carlos Perez thought he had a bright idea for a new running race in Santa Rosa. But when he pitched a 5K or 10K (to be staged on the first weekend in October) at a meeting with Sonoma County's largest running club, he was hit with stony silence. Crickets.
Perez, founder of event management company Bike Monkey and the guy behind Levi's GranFondo and a slew of other cycling events, is a bike guy. So the less-than-enthusiastic reception to this plan for a 5K, perhaps on the Prince Memorial Greenway, in a room full of Empire Runners was a mite bewildering.
"This is the beating heart of the running community," Perez remembered. "And the room was a little quiet."
But races at those distances are a dime a dozen. And there are races on the Greenway all year long. No one's imagination was captured.
And then someone said it.
"I don't know who it was in the room, but it was, 'Let's bring back the Mile,'" he said.
And let's stage it on the streets of downtown Santa Rosa.
Val Sell, a longtime member of the 800-member Empire Runners club, said the room went from wary to almost giddy. After all, this group had tried in recent years to bring back to downtown Santa Rosa a Mile race. But the logistics — street closures, official course certification, etc. — proved troublesome.
But Perez said he'd handle all that if the runners would handle the race — design it, get the word out, sponsor a prize purse.
"So we said, 'You think you can get the city to close the roads?'" she said. "You just want to pick our brains?"
Yes and yes. You can almost hear her hands rubbing together in anticipation. The Mile is coming back to Santa Rosa.
Continue reading at: pressdemocrat.com