Schneider, Fink to Defend Camel City Elite Mile Crowns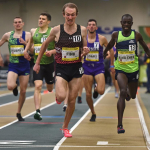 February 02, 2022
Top fields, including seven Olympians, set to compete at 10th Camel City Elite meet; prize purse exceeds $80,000
From JDL Fast Track
WINSTON-SALEM, N.C. – At the 10th Camel City Elite meet, Winston-Salem and JDL Fast Track will host some of the top distance athletes in the world on Saturday, February 5 at 2:00pm EST. This year's roster includes seven Olympians who competed in either the Rio or Tokyo Olympics.
Camel City Elite will once again offer one of the largest prize purses in the country, exceeding $80,000, with $6000 for first place, $4000 for second, $2000 for third, $1000 for fourth place and on down to 8th place. Additionally, there are $1000 time bonuses to the winner in each event as well as $1000 flat track world record bonuses.
The pro athletes confirmed include the following Olympians:
► Alex Amankwa (Ghana) – competing in the 800
► Sam Atkin (Great Britain) – competing in the 3000
► Charlie Grice (Great Britain) – competing in the Mile
► Jesus Tonatiu Lopez (Mexico) – competing in the 800
► Clayton Murphy (United States) – competing in the 800 and Mile
► Rachel Schneider (United States) – competing in the 3000 and Mile
► Ajee' Wilson (United States) – competing in the 800
Additionally, the other pros include Maddie Kopp (pacer), Charlene Lipsey and Hannah Segrave in the women's 800. Sammy George (pacer), Elly Henes and Dani Shanahan will be competing in the women's 3000 and Mile. Emily Richards is also in the women's Mile.
On the men's side, Charles Shimukowa will be pacing the men's 800. Vincent Ciattei, Graham Crawford and two-time defending champion Willy Fink will be in the men's Mile. Jackson Lewis will be pacing both the men's 3000 and Mile. The men's 3000 will also feature Casey Comber and Craig Nowak.
Murphy and Wilson both set flat track "world records" at the 2019 event, with Murphy running 1:45.92 and Wilson 1:59.26 for the 800 for their respective genders. The 2022 races will also feature the defending champion in 5 of the 6 events. Segrave will defend her women's 800 title, Schneider will defend both the women's 3000 and Mile titles, Nowak will defend the men's 3000 title, and Fink eyes a Camel City Elite Mile three-peat!
According to facility director and elite athlete coordinator Craig Longhurst, this is one of the strongest international fields at Camel City Elite. Jesus Tonatiu Lopez, the Mexican 800m record holder, was an Olympic semi-finalist in Tokyo. "We have had many international athletes at Camel City before, but I can't remember a year where we had Olympians from three other countries represented. It's wonderful to give this type of exposure to international athletes to the fans in the area."
In addition to the pros, Camel City Elite will also feature some of the top NCAA Division I & II athletes in the country. Schools with confirmed athletes in the elite sections will include Division I schools Campbell, Duke, Eastern Kentucky, Furman, Georgia Tech, Kennesaw State, Kentucky, NC State, North Carolina, North Florida, Texas, UMass Lowell, Virginia, Virginia Tech and Wake Forest. Division II schools will include Lee (Tennessee), Queens and Wingate.
According Longhurst, these are some of the top collegiate fields at Camel City. "We are always excited about the professional athletes that we can bring in, but this year's college fields are the deepest we have had. The collegians seem to get faster each year, and this year is no exception. The pros are really going to have to be on their toes." The collegians include multiple sub-4:00 Milers and the national champion NC State Wolfpack women's cross country team members.
This year, Camel City Elite will feature middle school Mile races for boys & girls in the program. One of the ideas is to get more community engagement around the event, but the races also feature a second purpose. With multiple athletes attempting to compete in two Camel City Elite events, adding the middle school Mile races will provide them with a little more rest opportunity between races. Each of the middle school Mile races will feature approximately 15 athletes who were all provided complimentary entry to compete.
Admission for the event is $10 for adults, $5 for students and kids 12 & under are FREE. Winston-Salem is currently under an indoor mask mandate, so all spectators must wear a mask unless actively eating or drinking.
Camel City Elite will be streamed live online at jdlfasttrack.com as part of the RunnerSpace +Plus subscription package which starts at $12 a month.