Sir Walter Miler provides best glimpse of future growth for American track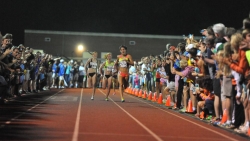 August 08, 2015
In a time when the sport seeks to find a return to prominence, a small meet in North Carolina provided a glimpse of what the future of American track & field can look like.
By Christopher Chavez, Sports Illustrated
The community races kicked off at 8:00pm and more than 2,000 fans were already surrounding the track at Meredith College for Friday night's 2015 Sir Walter Miler.
Standing by the finish line at the second edition, it was impossible to see beyond the final turn as fans stood in the fifth lane of the track and wrapped around for 150 meters. Even as her tired legs began to falter, world championship steeplechaser Stephanie Garcia found a final gear and kicked off the night's professional action by crossing the finish line in 4:28.84 for the world's fastest women's Mile this year.
"I couldn't have done that without the crowd tonight," Garcia said. "Even the backstretch was covered which people sometimes forget about. It was such great energy. The local race beforehand really helped because when we came out, people came out and were really ready to support us."
Continue reading at: si.com