State Mile Guide: #4 Georgia
March 21, 2013
Date of Statehood: January 2, 1788
Capital: Atlanta
Motto: Wisdom, Justice & Moderation
Home to the 1996 Atlanta Olympics, the Peachtree State witnessed Mile legend Noureddine Morceli's 3:50.86 warm-up prior to the Games at the Atlanta Grand Prix, a U.S. All-Comer's Mile record at the time. More recently, in 2015, Brandon Lasaster became the first native Georgian to go sub-4 minutes, while Amanda Winslow, a standout at Collins Hill High School and Florida State, has a sub-4:30 Mile to her name, recorded in 2014; see the below.
Petition Georgia High School Association (GHSA) to Bring Back the Mile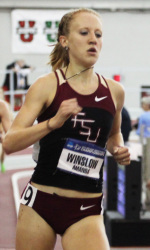 Amanda Winslow became the fastest Georgian woman with her 4:31.08 runner-up finish at the 2013 NCAA Indoor Championships, and in 2014, she clocked a sub-4:30 indoor Mile.
STATE RECORDS
Georgia Soil
Male: 3:50.86, Noureddine Morceli (ALG), 1996
Female: 4:25.92i, Regina Jacobs (USA / CA), 2000
i = indoors
Georgian
Male: 3:59.24, Brandon Lasaster, 2015
Female: 4:26.28i, Amanda Winslow, 2014
i = indoors
BOYS:
Mile: 4:04.78, Brendan Mahoney, Marist, 1999
1600m: 4:06.27, Ben Hubers, McEachern, 2007
GIRLS:
Mile: 4:50.88, Amanda Winslow, Collins Hill, 2008
1600m: 4:44.97, Amanda Winslow, Collins Hill, 2009
JOIN BBTM
BBTM's state-by-state Mile guide is being produced to share the rich story of each state's history with the Mile, a distance regardless of age, gender or fitness-level, that everyone understands. If you consider yourself a Georgian T&F sage and would like to help us fill out our guide, email milemaniac@bringbackthemile.com. We welcome your support and feedback!
REFERENCES