Sub-4 Mile? Maybe not this year, but Cathedral's Cole Hocker is on his way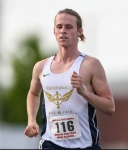 May 31, 2019
Indiana high school senior, University of Oregon bound, produces high achievement on low mileage
By David Woods, Indianapolis Star
INDIANAPOLIS – With shoulder-length blond hair and piercing blue eyes, Cole Hocker resembles a teen rock star. He is something of a musician, teaching himself to play piano and taking drum lessons.
But his status is not manifested in nightclubs or concert venues. He performs on grassy cross country courses and hard-surfaced 400 meter ovals. There, the 5-10, 140-pound Miler is a rock star.
His talent and fitness could make him the 11th high school runner to clock a sub-4 minute Mile. That is unlikely to happen, for reasons to be explained below. This much is clear, though: Whatever happens, it will not be because Hocker lacks ambition or resolve.
"I don't get caught up really on times that much," he said. "I'd rather have titles than a fast time. Times come, also."
Hocker, a Cathedral senior, will try for titles in the 1600 and 800 meters Friday in the boys state track & field meet at Bloomington. If he scores 20 points, Cathedral might climb into contention for its first team title. The Irish have never finished in the top 10.
For a young runner like Hocker, who won a national cross country title at age 9, the narrative is often that of someone whose ceiling is low because mileage is high. How fast and far can he really go?
Longtime Cathedral distance coach Jim Nohl is mindful of that, so he has confined Hocker's training to fewer than 40 miles a week. Perhaps twice a year, Hocker logs a 50-mile week. His training has mimicked that of Indianapolis businessman Bob Kennedy, a two-time Olympian whose Ohio 1600m record of 4:05.13 has stood since 1988.
Continue reading at: indystar.com