Sub 4-minute Milers keep Princeton University track & field on the right track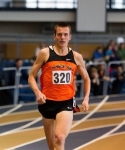 April 15, 2012
By Paul Franklin, The Times of Trenton
PRINCETON — Britain's Roger Bannister was the first, in 1954, and legendary runners like Jim Ryun and Sebastian Coe would follow. And for the past dozen years, no one has run the Mile faster than Morocco's Hicham El Guerrouj.
Two runners at Princeton University are certainly nowhere near the world record of 3:43.13, but they nevertheless belong to the exclusive club of the sub-4 minute Mile.
They both broke the barrier during the past indoor season. Junior Peter Callahan did it twice, his best being 3:58.76, and senior Joe Stilin got under at 3:59.98.
Two others are right behind. Donn Cabral has run a 4:00 and Trevor Van Ackeren a 4:01.
Continue reading at www.nj.com