The 40th anniversary of Seb Coe's Mile world record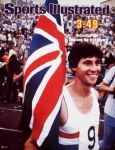 September 01, 2019
As amazing as Coe's 800 world record was, the avalanche of attention was tenfold when he broke the Mile record, attention which would change his life forever.
By Jeff Benjamin, RunBlogRun.com
Just 12 days after his 800 meter world record, Sebastian Coe would once again be toeing the line in the same Bislett Stadium in Oslo, Norway.
But this time, Coe would not only be lining up in an event he had only run once a year for the previous 4 years. The 22-year-old would also be competing against most of the world's best at that particular event: The Mile.
And it was set up as "The Golden Mile."
The Golden Mile was not set up for Coe, but rather for the world's top-ranked Milers. "As far as many were concerned I was a jumped-up 800 meter runner," said Coe in the film "Sebastian Coe Born to Run".
"It was the height of arrogance really."
But it was also driving the heights of anticipation and potential, as Coe was the true wild-card in the race. Sporting only a 3:57 Mile PR, the new 800 world record holder was running his 4th Mile race in 4 years.
"I went to the race to run a good time," said America's top Miler Steve Scott, who was hoping to break Jim Ryun's U.S. record of 3:51.1. "It was one of the biggest races I was ever in, being that I was only one year out of college and was just getting into the international scene, but Coe was the great mystery."
However, indoor Mile world record holder Eamonn Coghlan of Ireland had some familiarity with Coe. "In 1978, Brendan Foster brought over and organized for Seb and others to come run the Loughrea 4 Mile road race," said Coghlan recently. "Seb beat me and won the race," said Coghlan, as Coe ran 17:54 and broke Foster's record of 18:05 set the year before. Coghlan would finish second, while Mike McLeod would finish third. "You know Seb beat me, but I was blocked and had to go around a police car to keep racing!," added Coghlan of the race, which also included British stars Charlie Spedding and Steve Kenyon.
"But there was a great sense of anticipation and it was like no other race I was in before."
"Having run my first sub-4 races in 1978 (3:59.6 and 3:58.1), I had high hopes for the 1979 season," said Craig Masback. "Things went well for me, with my running a PR or close to it almost every time out. I broke four at the Penn Relays in late April then in June ran 3:56 (Vienna), 3:55 (at Rutgers), and 3:54.7 in Philadelphia - suddenly I was competitive in races I never dreamed of getting into!"
But getting into the race proved quite taxing on Masback. "The big goal was to get into the Golden Mile in Oslo, and though my trajectory was in the right direction, I didn't have the name, times or victories to merit an invitation," said Masback.
"The decision-maker was Andy Norman, the famous British meet director, who was putting together the field. He needed two things: Americans in the race, because NBC was going to cover it, and pacemakers, and he saw me filling both roles. Andy had said that if I ran the 1500 meters at the English AAAs Championship the Saturday / Sunday prior to the Golden Mile, which was on a Tuesday night, I could have a place in the Golden Mile and I agreed."
Continue reading at: runblogrun.com
Mile WR progressions HERE.
The Golden Mile 1979 start (below)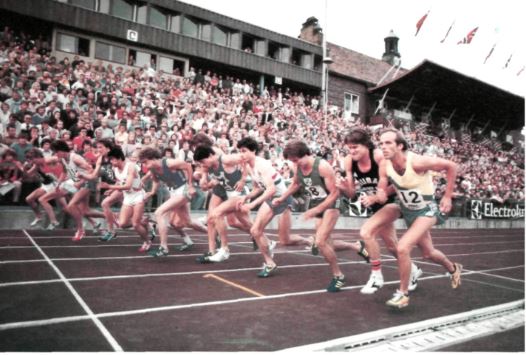 Full race video with interviews