The quest for Delaware's first sub-4 Mile set for April 9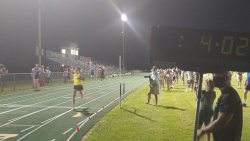 March 31, 2022
Tatnall School hosts The Delaware Mile Challenge, drawing top fields vying for $15,000 plus time bonus money and Mile glory
By Sean Greene, WDEL.com
It has been 68 years since Roger Bannister broke one of sport's greatest barriers, but it still hasn't been replicated in the First State.
When the British-born Miler ran 3:59.4 on May 6, 1954 in Oxford, England, it continued a steady progression of faster times that has pushed the current record to 3:43.13 by Morocco's Hicham El Guerrouj in 1999.
In the time since Bannister first crossed that barrier, it's estimated that more than 1,600 men -- the women's world record is 4:12.33 by The Netherland's Sifan Hassan -- have been able to join one of athletics' most elite clubs.
It's a group that includes Delawareans, including Kieran Tuntivate, who ran for Thailand in last summer's Olympics, and Tatnall School alum Sam Parsons.
What they have in common with their fellow sub-4 Milers? None of them have done it in an official race on Delaware soil.
That's where Tatnall steps in with "The Delaware Mile Challenge", as they look to celebrate the installation of a new track (complete with video scoreboard) by making Delaware the 46th state to enter the 4 minute Mile club (track or road, offical race).
Tatnall cross country coach Pat Castagno, who has coached several state champions and Division 1 athletes, said the goal is to create a festival atmosphere with several races on Saturday evening, April 9, 2022.
"While a Delawarean has done it before, it's never been done here. We want to do it here in our state. We want to bring a crowd, and get some energy around it."
The plan is for six races: Middle School, Masters (40 & Older), Community Mile / Fun Run, Open (18-39), Elite Women's and Elite Men's.
"The focus is to try to break the 4-minute Mile, but we're having a very impressive elite women's Mile as well, we're hoping they can go under 4:30," Castagno said.
A national field has been entered into the two Elite Fields, with prize money on the line.
Each elite race winner will receive $2500, with $2000 for second place, $1500 for third, $1000 for fourth and $500 for fifth.
There are also bonuses, with an extra $500 going to the winner of the men's race if he cracks the coveted 4:00 mark, and the women's heat if she lowers the Delaware soil record of 4:45.84 set by Suzanne Girard of NC State in a meet at the University of Delaware in 1981.
If multiple people finish under those times, an additional $500 will be split among those eligible besides the winner.
Continue reading at: wdel.com