Top girl's Miler headed to prestigious Millrose Games for 3rd consecutive year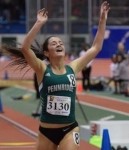 January 22, 2015
"I expect her race at Millrose will be her best performance. I think she'll be battling to win."
By Sarah Gearhart, USA TODAY High School Sports
If third time's the charm, Marissa Sheva might just have her way next month when she competes in the Mile at the NYRR Millrose Games, the most prestigious indoor track & field event in the nation.
The Pennridge High (Pa.) senior automatically qualified last month when she set a meet record for the Mile in 4:50.73 at the Bishop Loughlin Games, the oldest and largest high school indoor meet in the country.
The Millrose Games, held in New York City on February 14, attracts the country's top professional, college and high school athletes. This will be Sheva's third appearance. She finished sixth and eighth as a sophomore and junior. This time, she is aiming to crack the top five, and for a personal best around 4:45.
"Everybody who is there wants to be there," Sheva said of the intense competition. "I'll run my own race. I won't go lead wire-to-wire, but I want to be in contention and ready to go in the last lap."
Continue reading at: http://usatodayhss.com