Webb Wins Mile Showdown over Hall at Arcadia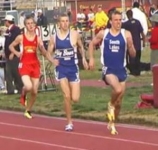 April 14, 2001
Other top high school distance performances also produced at annual storied prep invitational meet
By Ryan Lamppa, Running USA wire
ARCADIA, Calif. - At the Arcadia Invitational on Saturday, Alan Webb was the talk of the meet, before and after, as the senior from Reston, Va. who last January became the first U.S. high schooler to break 4 minutes for the Mile in nearly 34 years, won the featured event, the boy's Mile in a well-run 4:01.81.
Webb and challenger Ryan Hall of Big Bear, Calif., both wearing blue, held nothing back from the first lap (59 seconds) to the last one. Under cool, slightly breezy conditions, the duo hit three laps at 3:03 with Webb in front. Down the backstretch, Webb pushed the pace with Hall right behind. The crowd rose in anticipation of something special.
With 200 meters remaining, the Michigan-bound Webb put the hammer down and pulled away from a fading Hall. As Webb neared the finish line, all eyes were on the clock. Would he break 4 minutes? Not quite, but an impressive meet record performance nonetheless and also the second fastest Mile to-date at a U.S. high school-only competition (only Jim Ryun's 3:58.3 at the 1965 Kansas State Meet is faster).
The Jefferson twins John and Sean of Delray Beach, Fla. passed Hall in the final 150 yards to finish 2nd and 3rd (4:05.54 and 4:07.25) while Hall placed a game fourth (4:08.37). The top 8 all ran under 4:13.
Later in the evening, the Jefferson twins led their distance medley relay team to a victory in 9:57.88 (#3 all-time). Webb anchored his team to second (10:04.55), and although he made a run at it with a lap remaining, the seven second deficit he inherited at the exchange proved too large to overcome.
In the boys 3200 meters, Bobby Lockhart of Winchester, Va. won in 8:57.08 and pulled seven other boys to 9:10 or faster.
In the girls' distance events, Alicia Craig of Gillette, Wyo. used a 70 second third lap to gap the field and held form to win the 1600 meters in 4:46.49. Amber Steen and Alejandra Barrientos of California followed in 4:47.61 and 4:47.88 respectively. The top nine all clocked under 4:59.
In the 3200, sophomore Megan Kaltenbach of Aurora, Colo. threw in a 1:11 penultimate lap to break open the race and cruised to victory (10:11.97). Kaltenbach ran a solid negative split (second half faster than the first, 5:11 vs. 5:00). 2000 Foot Locker runner-up and California's 3200m defending champion Anita Siraki was second in 10:16.79. The top five ran under 10:30.
500 high schools from twenty different states and two foreign countries participated in the 34th Arcadia Invitational and another sell-out crowd enjoyed the action that included numerous meet records and all-time meet performances.