Weightman aims for London 2017 delight to repay coach and Mile legend Steve Cram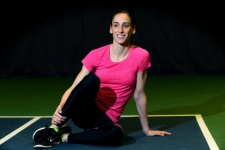 March 28, 2017
"A lot of the anger and frustration that I had when I was removed from funding only fueled my winter training to get out there and prove what I can do."
By The Yorkshire Post
The 26-year-old athlete has the know-how of former world record holder Steve Cram to fall back on in her quest to lead Britain's emerging pack of female middle distance runners to glory at the home World Championships later this year.
Spotted as a teenager, Weightman has been in a small working group under the BBC commentator for eight years and she has developed into one of the world's most consistent 1500 meter runners.
This was evident again last year as she battled back from heartache 12 months previously to reach the Olympic final in Rio.
"I wouldn't be where I am now without Steve," Weightman told The Yorkshire Post.
"I am incredibly lucky to have had him coach me for eight years. He has put so much time and effort into me. When I step out there, I want to perform to my best and give him something back and say thank you."
Continue reading at: www.yorkshirepost.co.uk