Willis to ring in the New Year with sub-4 Mile annual record streak attempt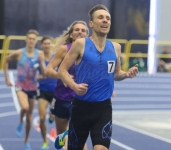 November 27, 2021
UPDATE: Due to escalating COVID-19 cases in New York, the Midnight Mile Gala on Friday, December 31, 2021 has been cancelled. Nick Willis' record-extending sub-4 attempt will take place in a private setting without spectators at The Armory in New York City; see video below.
Two-time Olympic 1500m medalist eyes extending his record 19th consecutive year sub-4 to 20 years at the Armory in NYC
Ring in the New Year with an evening of celebration, racing and record-making at the Midnight Mile New Year's Eve Gala in New York City on Friday, December 31, 2021.
Tracksmith has dreamed up a New Year's celebration unlike any other. Bring your dancing shoes and cocktail attire to enjoy food, drink and music on the Armory infield or bring your spikes and singlet to race a Mile on the track. Ideally, bring both. Part New Year's Eve Gala, part track meet, the Midnight Mile will be the best party of the year that also features racing. The festive atmosphere will hit its peak at the stroke of midnight when five-time Olympian and two-time Olympic medalist Nick Willis kicks off 2022 with a world record extending attempt - racing to break 4 minutes in the Mile for his 20th consecutive year (Nick holds the record at 19 consecutive years sub-4).
Community Mile Races
8:00pm–10:20pm
► Youth Mile Boys & Girls (2-3rd Grade)
► Juniors Mile Boys & Girls (4-5th Grade)
► Middle School Mile Boys (6-8th Grade)
► Middle School Mile Girls (6-8th Grade)
► Sub-7:00 Community
► Sub-6:00 Community
► Sub-5:30 Community
► Sub-5:00 Community
► Men's Masters Mile
► Women's Masters Mile
Marquee Mile Races
10:20pm–12:04am
► NYC Fastest Men's
► NYC Fastest Women's
► High School Boys
► High School Girls
► Celebrity Mile
► Elimination Men's Mile
► Elimination Women's Mile
► Sub–4: Nick Willis's World Record Extending Attempt
To be notified when tables and tickets for the gala go on sale as well as for race registration and other details on the night's festivities, go to: tracksmith.com