World Champion Morceli Shatters Mile World Record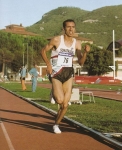 September 05, 1993
"He runs with no fear. Runners in the Western world have a tendency to create psychological barriers for themselves. He runs at will, with no inhibitions." - Eamonn Coghlan
From the New York Times
RIETI, Italy — Noureddine Morceli of Algeria set a world record for the Mile today, breaking the mark set in 1985 by almost 2 seconds.
Morceli, finishing in 3 minutes, 44.39 seconds at the Rieti Invitational track & field meet, bettered the record of 3:46.32 set by Steve Cram of Great Britain at Oslo in 1985.
In shattering Cram's mark by 1.93 seconds, Morceli produced the biggest drop in the record in 28 years.
Cool Air Helps
"I'd been close three times this season, but never had good atmospheric conditions," Morceli said.
The 23-year-old Algerian took advantage of the cool mountain air to win by more than 11 seconds, with no one close to him after his two pacemakers dropped out after 1000 meters. The crowd cheered loudly as he headed toward the finish line with his long, smooth stride.
The record highlighted a brilliant season for Morceli. He won the 1500 meter gold at the World Championships last month in Stuttgart, Germany and is unbeaten in the 1500 and Mile this year. He has come close to world records in nearly every meet he has run, at distances of 1000, 1500 & 3000 meters, and the Mile.
Rieti has been one of Morceli's favorite places to run. Last year, he set the 1500m world record of 3:28.86 at Rieti.
"I hope to come back and break yet another record next year," Morceli said.
Earlier this year, Morceli made several attempts to break Eamonn Coghlan's 10-year-old indoor Mile world record of 3:49.78. While he won every race, he fell short of the record.
Continue reading at: nytimes.com