Worthington grads set record for fastest 'piggyback' Mile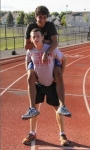 August 22, 2013
Duo clock sub-12 minute Mile to smash previous record
By Brad Friedman, ThisWeekNews.com
WORTHINGTON, Ohio - Worthington Kilbourne High School graduates Scott Weiss and Zack Navabi ran their way into the Guinness World Records book, running the world's fastest "piggyback" Mile on the track of Dublin Karrer Middle School on Wednesday, Aug.14.
Their time of 11 minutes, 58.03 seconds eclipsed the old record of 12:47 set in 2010 by Americans Ashrita Furman and Bipin Larkin in New York City.
Navabi, the one who was being carried, felt a sense of relief when he and Weiss crossed the finish line.
"I can't believe I just did that," Navabi said. "I was really (excited) that we actually made it. ... It would be really cool to see both of our names in the (Guinness World Records) book."
Guinness rules stated that Navabi must weigh as much or more than Weiss. After adding a three-pound weight to his back, Navabi weighed in at 151.3 pounds before the run. Weiss weighed 146.6 pounds.
The process of setting a world record proved to be no simple task for the Ohio State sophomores. Weiss and Navabi made nearly 60 calls to agencies that could verify their run, including law offices, police stations and schools.
Timers from Columbus Running verified the official time of the race while several friends and family members recorded every second of the run.
Weiss, an avid runner, said verifying the completion of the run was more difficult than the run itself.
"My biggest relief was not being finished with this race but being finished with this record as a whole," Weiss said.
Continue reading at: www.thisweeknews.com