You Don't Know Shelby Houlihan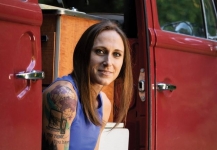 July 05, 2020
Her career to-do list is just as long as the places she wants to go: Break 3:50 in the 1500 meters; break 14 minutes in the 5000 meters: "I still feel like there's so much more untapped potential there that I'm very excited about."
By Erin Strout, Women's Running
It's mid-April. The year is 2020. And like most people around the world, Shelby Houlihan is trying to make sense of life during a pandemic.
And like thousands of other Americans, she's sitting on her bed during the afternoon, talking about it on Zoom. "The day we found out that the Olympics were postponed, I went to the store and bought some candy," she says, giggling. "I just said, 'I'm going to deal with this the way I want to deal with it.' Ice cream every night. I went pretty hard that week. I'm still eating crappy sometimes, but now I'm trying to have really healthy dinners, at least."
Everybody copes differently amid a global outbreak of a deadly virus, but even the most talented athletes in the world can relate to the mundane struggles on some level. The upheaval of schedules can take a toll—especially when the plan for peak performance has been in the works for at least four years. Finding a routine without races to train for, practices to attend, or lifting sessions to get to presents challenges.
Houlihan has fallen into late-night video game marathons with her boyfriend, Matthew Centrowitz, who won the 1500 meter gold medal at the 2016 Rio Olympics. It's a title she covets, by the way—she's hellbent on having her own one day.
"I've been enjoying the mental break—the time off of not feeling that pressure, just kind of getting back to running because I like it," Houlihan says. "I'm still working really hard, but I've gotten sucked into Matthew's habit of staying up really late—like 2:00am—and waking up at like, 10:00am. I am a morning person and I feel more motivated if I get up early. I think there's something to trying to keep the same routine as normal."
As one of the most gifted middle-distance runners the country has ever seen, this was supposed to be Houlihan's year. She didn't just want to make the Olympic team in the 1500 meters, she was (and is) gunning for a medal at the Tokyo Games, which were rescheduled for July 2021. And to anybody who's ever watched her compete, there's no doubt she has the talent to make it happen.
In October at the World Championships in Doha, she set the American record in the event (3:54.99), for fourth place. That was her second national record—she also owns one for the 5000 meters (14:34.45). But this spring she's holed up in her Portland, Oregon, home instead of hunkered down at a training camp in the mountains with her Bowerman Track Club teammates. In some ways it's not such a different routine, though the purpose in all the miles and workouts right now feels a bit less focused.
In her Zoom frame, Houlihan is leaning against a mural in her bedroom that she painted herself, mountain peaks in shades of deep to light purples. It took her 12 hours to complete after she moved into her place in 2017—revealing a creative side most don't realize the track star possesses. Her beloved gray tabby cat, Miko, is snoozing at her feet. He's never far away—she refers to the feline as her emotional support animal and takes him with her everywhere, like altitude camps, competitions and on visits to her see her family in Arizona.
Continue reading at: womensrunning.com