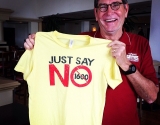 November 19, 2016
"I've encouraged the next generations of runners, which is in part what my wife and I like to do. So many people have contributed to who we are that it's an opportunity to give back to the next generation."
By Steve Navaroli, LancasterOnline
As a three-time Olympian and politician, Jim Ryun...
Read More
comments