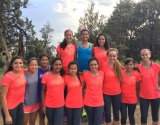 August 04, 2016
"There's more to life than just running. I'm starting to realize that more as I get older. Kids are looking up to me."
By Allan Steele, The Press Enterprise
The Brenda Martinez story is bigger than Brenda Martinez.
The 28-year-old former Rancho Cucamonga High and UC Riverside track star is...
Read More
comments