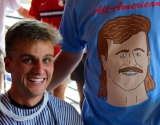 August 12, 2017
Craig Engels' famous hair-and-'stache combo in the running world has been chopped to benefit charity.
By Sarah Lorge Butler, Runner's World
Craig Engels has long turned heads for his fast running—and his flowing locks.
At the 2016 U.S. Olympic Track Trials, he was fourth in the 800 meters...
Read More
comments