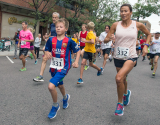 August 14, 2017
My sons slept in their new Pearl Street Mile T-shirts — and so did I! — proudly wearing them and discussing our races in the next morning.
By Lisa Jhung, Motiv Running
By most accounts, I'm a somewhat crotchety, just-about-middle-aged trail runner. I like most of my runs to be off-road...
Read More
comments