Chronological Listing of U.S. Women
Who Have Broken 4:30 in the Mile
as of February 12, 2016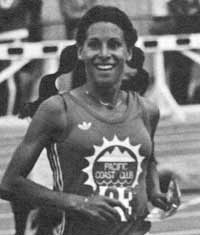 The mark listed for each U.S. athlete is her first-ever sub-4:30 Mile as a U.S. citizen. Performance also must be run in a Mile track race – indoors or outdoors. Since 1975, to-date, 61 U.S. women have broken 4 minutes, 30 seconds in the Mile. NOTE: women have had fewer opportunities to run the Mile than men over the past 30-plus years.
On February 15, 1975 in San Diego, CA, Francie Larrieu (pictured right) became the first U.S. woman to break 4:30 for the Mile and Shannon Rowbury's 4:20.34 on September 7, 2008 in Rieti, Italy is the fastest debut sub-4:30 Mile by a U.S. woman.
2014 produced the most new sub-4:30 U.S. members, 8 women, respectively, in the same year.
Additions and corrections are welcome at: media@bringbackthemile.com
i = indoors
| | | | | |
| --- | --- | --- | --- | --- |
| YEAR / NAME | TIME | PLACE | LOCATION | DATE |
| 1975 | | | | |
| 1) Francie Larrieu (now Larrieu Smith) | 4:29.0i | 1 | San Diego | February 15 |
| 1979 | | | | |
| 2) Mary Decker (now Slaney) | 4:23.49 | 1 | Philadelphia | June 30 |
| 3) Jan Merrill | 4:28.23 | 3 | Philadelphia | June 30 |
| 1982 | | | | |
| 4) Cindy Bremser | 4:29.21 | 1 | Westwood | May 16 |
| 1984 | | | | |
| 5) Ruth Wysocki | 4:21.78 | 1 | London | September 7 |
| 1985 | | | | |
| 6) Suzanne Girard | 4:28.65 | 4 | Edinburgh | July 23 |
| 7) Chris Gregorek | 4:29.00 | 4 | Oslo | July 27 |
| 1986 | | | | |
| 8) Sue Addison | 4:23.93 | 2 | Nice | July 15 |
| 9) Claudette Groenendaal | 4:25.29 | 8 | Brussels | September 5 |
| 1987 | | | | |
| 10) Linda Sheskey | 4:29.09 | 1 | Eugene | June 6 |
| 11) Diana Richburg | 4:25.77 | 1 | London | July 10 |
| 12) Mary Knisely | 4:28.49 | 5 | London | July 10 |
| 1988 | | | | |
| 13) Vicki Huber | 4:28.31i | 3 | New York | February 5 |
| 1989 | | | | |
| 14) Suzy Favor (now Favor Hamilton) | 4:27.31 | 1 | Westwood | August 6 |
| 15) PattiSue Plumer | 4:29.21 | 2 | Westwood | August 6 |
| 1990 | | | | |
| 16) Lynn Jennings | 4:24.14 | 3 | Oslo | July 14 |
| 17) Gina Procaccio | 4:24.85 | 5 | Oslo | July 14 |
| 1991 | | | | |
| 18) Annette Peters, oldest, age 35 | 4:29.63 | 9 | Oslo | July 6 |
| 1992 | | | | |
| 19) Shelly Steely | 4:25.49 | 3 | Sheffield | August 14 |
| 1993 | | | | |
| 20) Ceci St. Geme | 4:27.0 | 1 | Los Gatos | June 24 |
| 1995 | | | | |
| 21) Regina Jacobs | 4:26.54i | 1 | Atlanta | March 4 |
| 1997 | | | | |
| 22) Juli Henner | 4:26.91 | 2 | Linz | July 9 |
| 23) Amy Wickus | 4:27.68 | 3 | Linz | July 9 |
| 1998 | | | | |
| 24) Alisa Harvey | 4:29.65 | 7 | Uniondale | July 20 |
| 1999 | | | | |
| 25) Amy Rudolph | 4:27.66 | 7 | Nice | July 17 |
| 26) Sarah Thorsett | 4:28.42 | 9 | Nice | July 17 |
| 2003 | | | | |
| 27) Mary Jane Harrelson | 4:29.10 | 1 | Falmouth | August 9 |
| 2006 | | | | |
| 28) Treniere Clement (now Moser) | 4:29.93i | 2 | Boston | January 29 |
| 29) Carrie Tollefson | 4:27.96 | 1 | Falmouth | August 12 |
| 30) Erin Donohue | 4:28.99 | 2 | Falmouth | August 12 |
| 31) Tiffany McWilliams | 4:29.56 | 3 | Falmouth | August 12 |
| 2008 | | | | |
| 32) Christin Wurth-Thomas | 4:27.18i | 1 | Fayetteville | February 15 |
| 33) Shannon Rowbury, fastest U.S. first sub-4:30 | 4:20.34 | 3 | Rieti | September 7 |
| 34) Anna Willard | 4:28.37 | 11 | Rieti | September 7 |
| 35) Lindsay Gallo | 4:28.90 | 13 | Rieti | September 7 |
| 2009 | | | | |
| 36) Jenny Barringer (now Simpson) | 4:25.91i | 1 | College Station | February 28 |
| 37) Sarah Bowman (now Brown) | 4:29.72i | 1 | College Station | March 14 |
| 2012 | | | | |
| 38) Katie Flood | 4:28:48i | 2 | Seattle | February 11 |
| 39) Brenda Martinez | 4:26.78 | 1 | Falmouth | August 11 |
| 40) Gabriele Anderson (now Grunewald) | 4:27.94 | 2 | Falmouth | August 11 |
| 41) Kim Conley | 4:27.23 | 1 | Leuven | August 18 |
| 2013 | | | | |
| 42) Mary Cain, youngest, age 16 | 4:28:25i | 2 | New York | February 16 |
| 43) Kate Grace | 4:28:79i | 3 | New York | February 16 |
| 44) Emma Coburn | 4:29.86i | 4 | New York | February 16 |
| 45) Brie Felnagle | 4:28.90 | 2 | San Diego | May 5 |
| 2014 - most first U.S. sub-4:30 in one year = 8 | | | | |
| 46) Abbey D'Agostino | 4:28.31i | 2 | Boston | January 24 |
| 47) Jordan Hasay | 4:28.37i | 3 | Boston | January 24 |
| 48) Amanda Winslow (now Winslow-Rego) | 4:26.28i | 1 | Boston | February 8 |
| 49) Morgan Uceny | 4:29.89 | 2 | Concord | June 5 |
| 50) Molly Huddle | 4:26.84 | 1 | Dublin | July 11 |
| 51) Aisha Praught | 4:27.61 | 3 | Dublin | July 11 |
| 52) Lauren Penney | 4:28.02 | 4 | Dublin | July 11 |
| 53) Katie Mackey | 4:27.78 | 1 | Falmouth | August 16 |
| 2015 | | | | |
| 54) Colleen Quigley | 4:29.67i | 1 | Boston | February 13 |
| 55) Stephanie Charnigo | 4:28.02i | 3 | New York | February 14 |
| 56) Leah O'Connor | 4:27.18i | 1 | Fayetteville | March 14 |
| 57) Shelby Houlihan | 4:28.71i | 2 | Fayetteville | March 14 |
| 58) Stephanie Garcia | 4:28.84 | 1 | Raleigh | August 7 |
| 59) Amanda Eccleston | 4:29.06 | 2 | Raleigh | August 7 |
| 60) Heather Wilson | 4:29.39 | 3 | Raleigh | August 7 |
| 2016 | | | | |
| 61) Elinor Purrier | 4:29.71i | 4 | Boston | February 12 |
| i = indoors | | | | |
| SOURCE: BringBacktheMile.com | | | | |
| Back to Mile History page | | | | |