2015 NCAA Indoor Men's Mile Preview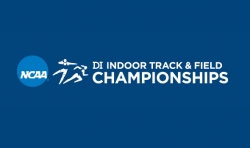 March 11, 2015
An epic battle expected between NCAA superstar Edward Cheserek and breakout Miler Cristian Soratos
By LetsRun.com
The 2015 NCAA Indoor Track & Field Championships will be held on Friday and Saturday at the University of Arkansas' Randal Tyson Track Center.
This has the potential to be a great one. Not only is the Mile loaded — 11 men have broken 3:58 and, for the first time ever, there are sub-3:59 guys sitting at home because they weren't fast enough to make it to NCAAs — but there's some fantastic top-end talent as well in Cristian Soratos and Edward Cheserek.
Soratos enters as the NCAA leader thanks to his 3:55.27 at the Husky Classic on February 14 and is undefeated this year, most recently claiming titles in the 800 and Mile at the Big Sky Championships on February 28. He was the second man out of making NCAAs at the West regional last spring, but nationally Soratos didn't register until his season-opening 4:05.18 at the Montana State Open on January 16, which after applying NCAA conversions for the flat track and Bozeman's 4,820 feet of altitude, was converted to a 3:56.87 for NCAA qualifying purposes.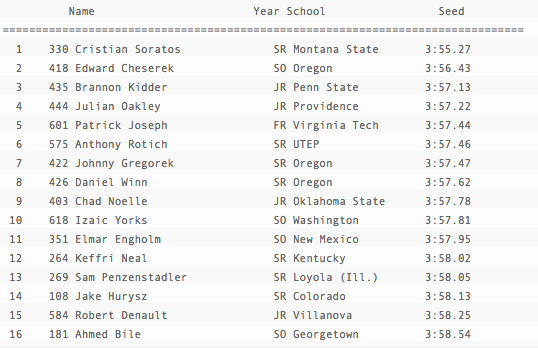 A lot of people questioned the validity of that performance but any doubts about Soratos' ability were silenced a month later in Seattle, when he blasted a 3:55.27, destroying a very good runner in Penn State's Brannon Kidder over the final 100 meters in the process. If you haven't watched the race, it's well worth three minutes and fifty-five seconds of your time: Soratos made a bold move to the front around 1000 meters but looked as if he might have gone too early after Kidder passed him just after the bell. Instead, Soratos retook the lead on the final turn before using a Cheserekian burst of speed in the final straight to win by almost two seconds (56 last lap). Running 3:55 automatically makes you a contender for the NCAA Mile title, but doing it with such a strong kick at the end is a very, very good sign for Soratos. Good runners can close well off a slow pace; great runners — NCAA champions — can do it off of a fast pace, too.
Considering that Kidder ran the #3 time in the NCAA in that race and looked like he was running in quicksand compared to Soratos at Husky, we feel confident that Soratos will finish in at least the top two at NCAAs (yes, it's his first NCAA championships, but when you can close a 3:55 in 56 seconds, experience becomes less important). The question on everyone's mind is, can he beat Edward Cheserek?
Continue reading at: www.letsrun.com