21 Women Who Are Transforming The World Through Running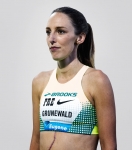 November 16, 2017
Three Mile athletes, Gabe Grunewald, Sara Vaughn & Dominique Scott, in the Game Changers 2017 list
By Bethany Mavis, Caitlyn Pilkington, Meghan Roos & Rebecca Warren, Women's Running
When Gabe Grunewald crossed the finish line at the USA Outdoor Championships this past June, the other 1500 meter runners circled around her and said a little prayer of well wishes. The 31-year-old middle-distance runner was undergoing chemotherapy at the time to treat adenoid cystic carcinoma, a rare cancer that was recurring for the fourth time. The national meet fell during one of her off weeks of treatment, and the emotions on Grunewald's face as she plowed down the homestretch were met with enormous crowd cheers. The running community was lifting up one of its own as she ran across the line, about to face another round of aggressive infusions.
That was on June 22. On July 12, Grunewald announced via Instagram that her body did not respond—"at all"—to chemotherapy. The cancer survivor was now looking at immunotherapy as her next option to beat the disease again. She explained how she would be working with one of the best doctors at Memorial Sloan Kettering Hospital in New York while undergoing the alternative to chemo.
However, it wasn't just the devastating update that pulled at the heartstrings and grabbed headlines. It was also the way Grunewald chose and continues to choose to share her own story—with optimism, unwavering strength and an uplifting message about fighting for your best life. Instead of skipping the national championships, Grunewald finished her season and competed, and she has big plans to continue in 2018. She still runs regularly—sometimes right after spending hours at the hospital for her infusion. Despite being dealt a terrible hand—for the fourth time—Grunewald is making the most of it.
"I am in a tough situation with my health—there's no doubt about that—but I want my story to be as positive as it can be. I'm not in control of my cancer, but I'm in control of my attitude and how I live my life," she says. "That's the message that I share that I think is important—our circumstances don't define us; we can keep living our lives even in the face of something as scary and life-disrupting as a cancer diagnosis."
Continue reading at: womensrunning.competitor.com
Below, Sara Vaughn at 2017 USA Outdoor Championships