7 Must-Do Mile Road Races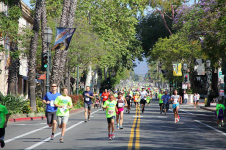 September 21, 2015
Included in the list are BBTM Featured Events HOKA ONE ONE State Street Mile in Santa Barbara, CA and the Medtronic TC 1 Mile in Minneapolis, MN
By Ryan Wood, Competitor
The rallying cry among some in the running world is to "Bring Back the Mile!" And they're not just talking about the track.
Mile road races are a great way to see just how fast you are, and there are several across the country that offer fast courses, scenery, raucous crowds and more!
Whether you want to ease into road racing gently or just want to hammer it for 5,280 feet, these races across the U.S. give you the opportunity to go hard in the classic, storied race distance.
Continue reading at: running.competitor.com