April 20-21 Mile Guide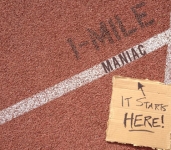 April 20, 2012
By Bring Back the Mile
This weekend kicks off what is one of the most exciting nine days of Track & Field and for Milers everywhere on the 2012 calendar. For our part we'll be down at the Mt. SAC Relays, so if you're in the area come on over and give us a high five; we'll be near In N' Out with CIF petitions, Mile Maniac gear and a guest appearance or two.
There is also some great high school action at the Volunteer Track Classic in Knoxville, TN where race director Marty Sonnenfeldt switched to the Mile a couple of years ago! Also, don't miss the stacked elite Mile toeing the line in the Glenn Cunningham Mile at the Kansas Relays.
For complete schedule of events visit our Mile Calendar. Did we miss something? Email milemaniac@bringbackthemile.com
Viewing Schedule & Resources (all times local)
PUMA Mile @ Mt. SAC Relays (April 20 / Walnut, CA)
Friday, April 20
7:12 PM - Women's Mile
7:18 PM - Men's Mile
Volunteer Track Classic (April 21 / Knoxville, TN)
Saturday, April 21
2:00 PM - Markie Voyles Girls' Mile
2:30 PM - Boys' Mile
Glenn Cunningham Mile @ Kansas Relays (April 21 / Lawerence, KS)
Saturday, April 21
4:10 PM - Glenn Cunningham Men's Mile
Charlotte Museum Mile (April 20 / Charlotte, NC)
M.M.T.C Masters Mile (April 21 / Bridgeport, MI)
Hermosa Beach Kids 1 Mile Road Championships (April 21 / Hermosa Beach, CA)
Thank you. For complete T&F coverage of all the weekend's action check out ESPN Dyestat, Milesplit, Letsrun.com, FloTrack, USTFCCCA, Track & Field Superfan, Spiked Up Pysched Up, and a track near you.