Baby to Olympic Team in Four Months?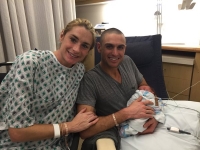 March 06, 2016
Sarah Brown gives birth to a girl and now begins her personal race to July's Olympic Trials in Eugene and "something special".
By Alison Wade, RunnersWorld.com
Top American middle-distance runner Sarah Brown gave birth to her first child, a girl, Darren Brown, announced on Twitter Friday morning.
Abigail Ann Brown arrived at 2:39am on March 4, weighing in at 5 pounds, 15 ounces, and "mom and baby are doing great," Darren Brown reported.
Now Sarah Brown will begin her next big project: making it to the starting line at this summer's U.S. Olympic Track & Field Trials in Eugene, OR. Brown hasn't been shy about making her goals public—she hopes to make the U.S. team heading to Rio in the 1500 meters. She has just over four months to prepare for the opening round of the women's 1500, scheduled to take place July 7.
Continue reading at: www.runnersworld.com