Bernie Montoya Signs NLI For ASU Track and Field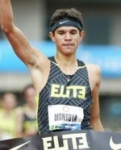 February 11, 2013
Montoya comes to Arizona State as the most highly acclaimed distance recruit in school history.
By Sun Devil Athletics
ESPN Article on Montoya's Dream Mile Victory
Race Video from adidas Dream Mile
Montoya Wins Arizona HS Mile State Championship...Despite Stopping to Fix Shoe
TEMPE, Ariz. – The Arizona State University track and field program scored the biggest in-state commitment since Jacquelyn Johnson with the addition of Bernie Montoya (Yuma, Ariz./Cibola High School), who has signed a National Letter of Intent to compete for the Sun Devils, head coach Greg Kraft announced.
Montoya is widely considered the top-ranked distance recruit in the United States and enters his senior season at Cibola HS as a five-time Arizona state high school track and field champion and a three-time state Cross Country Champion.
He became the first student-athlete in Arizona prep history to win three state cross country titles following his 5000-meter victory in 15:14.23 at the Arizona Division I State Championships and went on to finish 22nd at the Nike Cross Country Nationals this past fall.
Last season, Montoya made headlines across the country as he won the prestigious adidas Dream Mile in New York. The races are run as a part of the Diamond League meet, the adidas Grand Prix. Both the Dream Mile and Dream 100 are invitation only races (selected by adidas) with the Mile featuring the 14 best athletes in the country on both the men`s and women`s sides.
Continue reading at: thesundevils.com