Blankenship Ready for Fifth Avenue Mile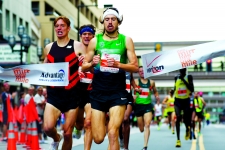 September 11, 2014
Minnesota native returning from broken toe to race against the best Milers in the Big Apple
By Jim Ferstle, DownTheBackstretch.com
Two days before this summer's Prefontaine Classic meet, Ben Blankenship broke his toe. The good news: it was a "clean" break, says Blankenship, and it healed quickly. He was running again in just about a month, he says, but the summer track season was "toast".
Blankenship had only raced twice prior to the break of the big toe on his right foot, the season had been planned for post-Pre meets. So, this weekend's Fifth Avenue Mile will be his first race of the summer. "I would have liked to race prior (to the NYC event)," said Blankenship, but that didn't work out. Instead Blankenship and his OTC Elite teammate Andrew Wheating formed an unlikely training partnership and have been training together in Eugene.
"Wheating and I linked up surprisingly well," said Blankenship. "I never expected we would click (as training partners)." In the logic of opposites may be well suited to help each other, the duo makes sense. Wheating, Blankenship notes, is a speed guy who does lower mileage. Blankenship has been working on strength, more mileage, longer runs.
Continue reading at: http://downthebackstretch.blogspot.com