Brenda Martinez Making Strides On & Off the Track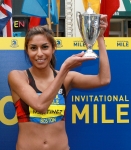 March 25, 2014
World Championships bronze medalist hopes to make some noise at the Carlsbad 5000
By Jay Paris, Competitor.com
Decisions, decisions, decisions.
Every runner has them and that includes the thousands taking to the streets on Sunday morning for the Carlsbad 5000.
That even goes for professional athletes like Brenda Martinez.
Last year, she was the first American female to hit the Carlsbad 5000 tape, clocking 15 minutes, 44 seconds,5th overall. That's good for Martinez and good for those hoping that Uncle Sam's running contingent will continue to make strides.
"It will be a lot better for me this time around," predicted Martinez, who made her Carlsbad debut in 2013. "I have a better feel for it."
Martinez, a three-time All-American at the University of California, Riverside, is getting comfortable in the 5K after making her mark at shorter distances, which include the Mile (with a 4:24.2 road PR). And let's not forget her bronze medal at 800 meters in last year's IAAF World Championships.
"I knew I was capable of it," Martinez said of mounting the podium in Moscow. "It was good for me to experience something like that and it is something I will never forget."
Continue reading at: http://running.competitor.com